Motorcycles
Motorcycle Signed by Pope Benedict Sells for 80 Percent Less Than One Signed by Pope Francis
Why are these popes signing Harley-Davidsons, anyway?
By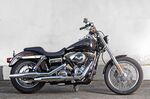 In an unintentional test of present and past popes' popularity, a Harley-Davidson motorcycle with Pope Benedict XVI's screen-printed signature went up for auction on Thursday at Bonhams Paris, a year after a similar motorcycle with Pope Francis's signature sold for $275,551.
Today's sale totaled less than a fifth of that amount, with the final price of $52,651. The buyer was identified only as a European collector, who bid by phone. In a twist, Bonhams confirmed it was the same collector who'd bought the Francis Harley last year. This time around, however, there was less interest.
"In 2014, Pope Francis was having something of a renaissance," says Ben Walker, the international departmental director for the Bonhams motorcycle department. "We saw a huge increase in his popularity." For the Benedict Harley, however, "we didn't anticipate the same hype," he says. The "huge amount" of interest from South American bidders during the 2014 auction was simply absent today.
Papal Backstory
The story of how these motorcycles managed to obtain papal signatures is almost as interesting as the auctions themselves.
In honor of Harley-Davidson's 110th anniversary in 2013, the American motorcycle company somehow arranged to get two of its gas tanks in front of Pope Benedict, who's seen in press photos standing in a white papal gown, smiling and touching each tank. The auction catalog notes that, even though he was apparently well enough to stand at a press conference, the pope was "too ill" to actually sign the tanks, hence a print of his signature instead. The absence of a hand-signed signature also may have contributed to the Benedict Harley's comparatively weak performance at auction, says Walker. "A serigraph signature is never going to be as desirable as one by the hand of the individual," he says. "For a pope, or any celebrity for that matter."
The tanks were then flown back to Harley headquarters, where they were installed in two motorcycles. One motorcycle stayed in the Harley-Davidson Museum in Milwaukee, while the other was shipped back to the Vatican, (by now the new home of Pope Francis), where it was presented at a ceremony alongside yet another, separate motorcycle, a Harley Dyna Super Glide Custom. (We're at three papal motorcycles now. Keep up.)
Here's where things get interesting. Pope Francis actually signed the Dyna Super Glide Custom's gas tank—there's a white "Francesco" next to the gas cap that a devout owner can glance at during quiet stretches on the open road—and then sent the bike to auction at Bonhams. The auction total was $275,551, with the proceeds going to Caritas Roma, a hostel and soup kitchen in the Termini railway station in Rome. The proceeds of today's auction will go to Stowarzyszenie Przyjazny Swiat Dziecka (the Friendly World Association), a Polish charity.
Before it's here, it's on the Bloomberg Terminal.
LEARN MORE