business
Michael Kors Is Getting Into Wearable Tech
CEO John Idol says the company will announce specifics in the "next few months"
By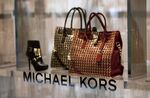 Michael Kors wants to go high-tech.
The fashion label—known for its MK print handbags that try to embody "jet-set" glamor—told analysts Thursday, Feb. 4, that it has plans for wearable technology and would announce specifics in the "next few months."
"We will be in wearables," John Idol, chief executive of Kors, said on a conference call. "So I will tell you that that is coming from Michael Kors. And we have a whole strategy around it."
Kors has previously hinted at its interest in tech-centered products, including selling lipstick tubes and compact mirrors that double as portable phone chargers. In 2014, it designed styles for the Duracell Powermat, a wireless phone-charging device complete with the signature MK logo print.
Idol noted the company's existing relationship with Fossil, which makes Kors watches and  in 2014 entered into partnerships with Intel and Google to develop wearable technology for the fashion industry. A representative for Fossil did not immediately respond to a request for comment. Kors declined to provide additional information on its plans for wearable gear.
An icon of "affordable luxury," Kors is in a period of mass expansion and is entering new markets, opening more stores and releasing new product lines. Total revenue rose 30 percent, to $1.31 billion, in the quarter ended Dec. 27. Shares dipped as much as 5.8 percent on Thursday, however, after the company reported disappointing North American sales.
The company will join other fashion powerhouses on the wearable tech bandwagon driven by the popularity of smart watches and fitness wristbands. Diane Von Furstenberg has recently created new frames for Google Glass, while Ralph Lauren sells a bag with an internal LED light and USB port. Rebecca Minkoff has Bluetooth-equipped bracelets that light up when your phone receives a text or call.
Kors, however, seems to be taking it slow. "We're not interested in being the first one to rush to the race," said Idol. "What we want to make sure is that we have an ecosystem that our customer really believes in and think[s] they're viable additions to not only their fashion wardrobe, but also to how they live their life."
Before it's here, it's on the Bloomberg Terminal.
LEARN MORE