LinkedIn Soars as Forecast Tops Estimates on New Products
Antonia Massa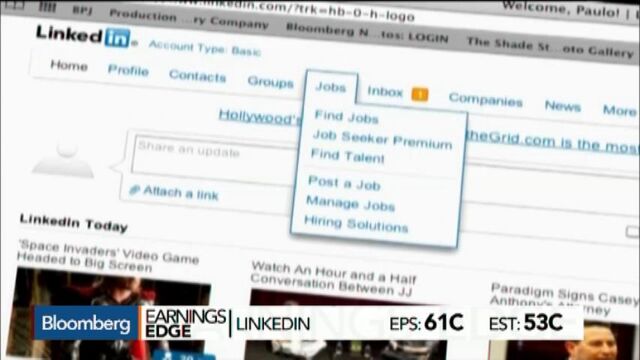 LinkedIn Corp.'s push into China and new products geared to advertisers and salespeople are starting to pay off, with the professional-networking service issuing a profit forecast for 2015 that topped estimates.
The shares jumped 11 percent in New York after LinkedIn said Thursday that annual profit, excluding certain items, will be $2.95 a share, topping the $2.74 average of analysts' estimates compiled by Bloomberg. User growth was steady, climbing 25 percent to 347 million members.
Jeff Weiner, LinkedIn's chief executive officer since 2009, is taking the Web company beyond its roots as a portal for recruiters and job seekers. He's added products to help businesses with their marketing campaigns and rolled out services for salespeople seeking new clients. The number of users in China doubled to 8 million. The measures helped to boost 2014 revenue by 45 percent to $2.22 billion, which LinkedIn said would expand to $2.93 billion to $2.95 billion this year.
"LinkedIn is one of the most compelling opportunities in the Internet space," said James Cakmak, an analyst at Monness, Crespi, Hardt & Co., who has a buy rating on the stock. "Expectations are continuing to climb."
LinkedIn, which climbed 5.9 percent last year, rose to $263.40 at the close in New York, the biggest gain since Oct. 31. The Mountain View, California-based company also exceeded projections for the fourth quarter, with profit excluding certain costs at 61 cents a share and revenue up 44 percent at $643.4 million. Analysts estimated 53 cents a share on sales of $617.2 million.
Investing in Growth
Net income slumped as LinkedIn continued to invest in new areas, declining to $3.1 million, or 2 cents a share, from $3.78 million, or 3 cents, a year earlier.
All three of LinkedIn's business segments reported increased sales. Revenue from the core service that helps recruiters and companies find job candidates gained 41 percent to $369 million. Marketing Solutions, LinkedIn's tools for advertisers, rose 56 percent to $153 million. The premium subscription segment grew 38 percent to $121 million.
LinkedIn expanded into China last February as the professional network seeks to gain share in a market where there aren't many established competitors. Approximately 70 percent of LinkedIn's members are outside the U.S.
To entice users to visit the website more frequently, LinkedIn has also bolstered content publishing. Eric Schmidt, Arianna Huffington and Suze Orman are among the contributors posting articles via LinkedIn.
LinkedIn disclosed that almost half of its traffic comes from mobile applications. The company has introduced a suite of seven apps for different purposes, including recruiting, job search and Sales Navigator, a new app for salespeople that helps them find leads and manage clients.
"This creates a great user experience," said Kerry Rice, an analyst at Needham & Co. "They're one of the companies asking, 'how do we make this as simple for users as possible?'"
Before it's here, it's on the Bloomberg Terminal.
LEARN MORE