From Talking Cure to Texting Cure
Coaches can treat anxiety and eating disorders online
By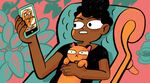 Alejandro Foung and Nicholas Letourneau, co-founders of online-therapy provider Lantern, met in 2007 when both were working at Trulia, the online property listing service. Besides a love of cycling, they had something else in common: Both had seen a relative suffer because of inadequately treated mental illness. By the time Foung's cousin was diagnosed with schizophrenia, his symptoms were so severe that he had to spend long stretches in a residential treatment center. Letourneau's brother suffered from depression and committed suicide. Foung and Letourneau say better access to mental-health services and earlier intervention could have helped.
The two quit their jobs in early 2013 to start Lantern, which went live in October. The San Francisco-based company offers inexpensive cognitive behavioral therapy via computers and smartphones on a subscription basis. Fees range from $49 a month to $300 a year. "Lantern is a great place to start for people who are looking for help in a way that fits their day," says Foung, who majored in psychology at Stanford. "The way we deliver the service allows a whole new set of people to access it." Mayfield Fund led a $4.4 million funding round for the company in July. Facebook Chief Product Officer Chris Cox is an investor and serves as an unofficial adviser.
While traditional psychotherapy is open-ended and aimed at uncovering unconscious motivations, cognitive behavioral therapy typically lasts 10 to 20 sessions and focuses on managing particular behaviors and feelings. As a first step, Lantern's clients are asked to complete an online assessment that includes questions about moods, stress levels, and sleeping habits. They are then matched with a coach, which is what Lantern calls the 25 licensed therapists who work for the company as contractors. After an initial 15-minute telephone conversation, the coach assigns audio-guided exercises to alleviate symptoms. For anxiety sufferers, the regimen may include muscle relaxation, deep breathing, and meditation. The coach will check in later to see whether the techniques are working and to answer questions. All communications take place via the company's secure e-mail and mobile messaging platform.
Lantern's competitors include Breakthrough.com and Virtual Therapy Connect, which arrange counseling sessions through videoconferencing. Developers of apps such as Happify and Personal Zen say their online games reduce stress.
Foung says 3,000 people have used Lantern so far, and its prospective market is huge. Almost 20 percent of Americans suffer from a mental illness, according to the Substance Abuse and Mental Health Services Administration. Many never seek treatment because of the stigma, high cost, and a lack of access and health-insurance coverage. For many, therapy is a luxury—something to be sacrificed during tough times: In 2008 the number of mental-health patients receiving therapy was 30 percent lower than a decade earlier.
Malay Gandhi, managing director of Rock Health, a digital health-care seed fund in San Francisco that has invested an undisclosed amount in Lantern, began beta-testing the company's anxiety program last September and is hooked. "Each day, my Lantern coach knows how my anxiety is trending," says Gandhi, who reports back to his coach about which of the program's techniques are working and which aren't. "After experiencing mental-health services this way, I can never imagine a consumer going back—it's insanely convenient."
This month, Lantern will launch a program for eating disorders designed in conjunction with two professors of psychiatry, Craig Barr Taylor of Stanford and Denise Wilfley of Washington University in St. Louis. The two academics have secured a $4 million grant from the National Institute of Mental Health to test a version of Lantern's platform at 30 U.S. universities. (Neither has a financial stake in the company.) Lantern's program is also being listed as a resource by the National Eating Disorders Association, which fields about 1,000 calls to its hotline each month.
Even the old guard of psychoanalysis says there's a role for a service like Lantern. "The type of therapy and the training and skill of the therapist may affect the outcome of treatment more than whether it is delivered online or in person," says Lisa Deutscher, a psychiatrist and spokeswoman for the New York Psychoanalytic Society and Institute.
The bottom line: Lantern offers cognitive behavioral therapy by e-mail and text on a subscription basis.
Corrects the description of Rock Health in the fifth paragraph. It is a digital health-care seed fund, not an incubator.
(Corrects the description of Rock Health in the fifth paragraph. It is a digital health-care seed fund, not an incubator.)
Before it's here, it's on the Bloomberg Terminal.
LEARN MORE