Keurig's New Brewer Is A Big Disappointment
Sales of the Keurig 2.0 fell short of expectations
by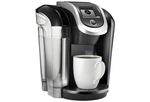 "The future of brewing is here," Keurig Green Mountain declared when it launched its larger "Keurig 2.0" machine last year. The new brewer could make either a cup or a carafe of coffee at a time, unlike existing Keurig machines. The company supported the launch with plenty of advertising and marketing ahead of the crucial holiday season, when about half its brewer sales usually happen. Now it looks like results didn't meet the company's expectations.
Keurig reported in an earnings call on Wednesday that brewer sales by volume fell 12 percent last quarter to 4.5 million machines. In addition to weak 2.0 sales, the company was slammed by a recall of its Mini Plus machines in late December. This marks the second consecutive quarter the company's coffee machine sales were down.
"Quite simply our 2.0 launch got off to a slower start than we planned," said CEO Brian Kelley during the call. He blamed a slow rollout of 2.0 coffee pods onto retailer shelves, and negative reviews from early users about not being able to use non-Keurig pods in the 2.0 machine. While ratings have improved, "the effect weighed on brewer sales during the key holiday season," Kelley said.
The low demand undermines Keurig's earlier research, which showed that more than 70 percent of its existing customers wanted a larger brewer — a fact that previously led Kelly to deem Keurig 2.0 "by far the largest and most significant product launch we've ever accomplished." These early results should be concerning for Keurig, as the company considers the 2.0 to be "strategically fundamental" to its growth. Since the machine is compatible only with K-cups licensed by Keurig — and not the growing variety of competing generic pods — the 2.0 promised to protect the company's K-cup business, which made up more than three-fourths of the company's sales last fiscal year.
While Keurig's single serve machines had the unique appeal of offering a fast way to brew one cup of coffee with little cleanup, the bigger Keurig 2.0 has the disadvantage of competing with the vast universe of conventional coffee machines that make more than one cup at a time. Keurig would need either for existing consumers to trade up from their old Keurig, or for new customers to ditch their old-fashioned brewers. So far, about half of 2.0 customers are existing Keurig users. That's a good sign for the company, because they're still increasing their consumer base — but with the Keurig 2.0, they just aren't doing it as fast as they'd like.
Before it's here, it's on the Bloomberg Terminal.
LEARN MORE