Kerry Visits Ukraine Amid Arms Plea as NATO Sees Violence Worsen
Volodymyr Verbyany and James G. Neuger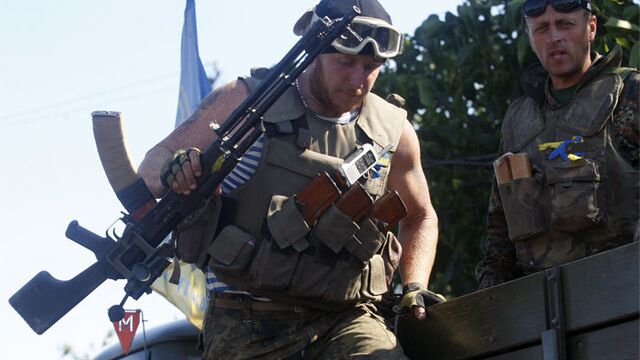 U.S. Secretary of State John Kerry is visiting Kiev as Ukraine seeks weapons from its allies and NATO warns the 10-month conflict is worsening.
Kerry will meet Thursday with President Petro Poroshenko, who's appealed for arms to help stem an offensive by the pro-Russian insurgents his army's fighting. NATO Secretary General Jens Stoltenberg called on Russia to use its sway over the militants to ease the unrest. The European Union urged a truce in one eastern Ukrainian town to allow civilians safe passage.
"Violence is getting worse and the crisis is deepening," Stoltenberg. said in Brussels before a meeting of North Atlantic Treaty Organization defense ministers.
The conflict, which threatens to splinter Ukraine and has driven a wedge between Russia and its former Cold War foes, is intensifying as both sides raise the stakes through influxes of troops and firepower. Already facing its deepest recession since 2009, the cash-strapped government is fighting a parallel battle to stave off bankruptcy and is locked in negotiations with lenders over an expansion of last year's $17 billion bailout.
Talks over a bigger aid package should be completed within days, Finance Minister Natalie Jaresko said this week, though the International Monetary Fund wants to limit its share of the burden, according to two people with knowledge of the lender's stance. The government's dollar bond due 2017 fell 0.1 cent to 52.7 cents on the dollar, data compiled by Bloomberg show.
Weapons Question
As Ukraine's military struggles to repel the separatist assault, President Barack Obama's nominee for defense secretary said Wednesday he could support sending the nation weapons. The Obama administration played down the possibility of sending arms to Ukraine this week. The decision will be made by the commander in chief, White House spokesman Josh Earnest said.
German Foreign Minister Frank-Walter Steinmeier said Thursday that the crisis can't be resolved with more weapons. His remarks echo Chancellor Angela Merkel, who has said the EU may slap new sanctions on Russia if the unrest worsens. U.S. Vice President Joe Biden plans to meet with Merkel and Poroshenko this weekend in Munich to discuss the need to impose additional costs on Russia and boost Ukraine's economy.
Russia denies allegations from Ukraine, the U.S., the EU and NATO that it's fueling the insurgency as a means of pressuring its neighbor, a key energy transit hub. At least 5,358 people have died and more than 12,235 people have been wounded in the conflict, the United Nations estimates.
The railway crossroads of Debaltseve is the scene of the fiercest fighting. EU foreign-policy chief Federica Mogherini called Wednesday for an immediate, three-day cease-fire to allow evacuation from the city, whose population has dropped to about 7,000 from 26,500, according to Amnesty International.
Before it's here, it's on the Bloomberg Terminal.
LEARN MORE