Kamala Harris Will Fight to Restore California Foie Gras Ban
California says it will appeal a U.S. district court judge's ruling overturning the state's ban.
By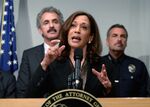 Before she begins her campaign to succeed Barbara Boxer in the United States Senate, California Attorney General Kamala Harris will fight a culinary battle in her home state over foie gras. 
Harris' office announced Wednesday that it will appeal a federal judge's ruling overturning California's ban on the sale and production of foie gras, the delicacy that requires the force-feeding of geese in order to fatten the birds' liver. 
In January, U.S. District Judge Stephen Wilson struck down the ban that went into effect in 2012, saying that the prohibition on the delicacy decried by animal rights groups infringed on federal regulatory powers. 
Many high end restaurants cheered the judge's decision, and promptly returned foie gras to menus as quickly as was possible. Today's news, however, had supporters of the ban applauding. 
"Kamala Harris is right to appeal this questionable ruling. California has the right to prevent the commerce in such a cruel and inhumane product," Paul Shapiro, vice president of farm animal protection at the Humane Society, told Reuters. 
Harris' office refused to comment on the case.