Joni Ernst for President?
Fifty-eight percent of likely Iowa Republican caucus-goers say she has what it takes.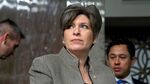 From the Des Moines Register:
Does Joni Ernst, the military commander who won an $85 million U.S. Senate battle last fall, have what it takes to one day become commander in chief?

Yes, according to 58 percent of Republicans who are likely to vote on the presidential candidates competing in the Iowa caucuses next year.

"She's not afraid of a fight," said GOP poll respondent Josh Ehlen, a 33-year-old commercial insurance broker who lives in Waukee.

But more than a quarter (26 percent) of those Republican voters say no, she doesn't, according to a new Des Moines Register/Bloomberg Politics Iowa Poll. In follow-up interviews, some said they voted for her and think she has moxie, but much goes into preparation for being president, and at this early stage, Ernst remains untested. ...

Iowa Democrats are more sure Ernst, 44, lacks what it would take to eventually become president: 82 percent of likely Democratic caucusgoers say she doesn't. She's a polarizing figure for Democrats, who think her conservatism will harm Iowa.