Shilling for Suburbia
How a cheesy family that raps became this season's marketing meme
By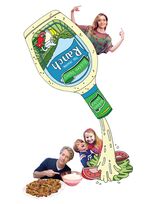 Hidden Valley Ranch couldn't afford a Super Bowl commercial. The 61-year-old brand may be the top-selling salad dressing in the country, but ads for the game this year were so expensive—$4.5 million for a 30-second spot—that "it's tough for us to pull off," says Julia Ponce, Hidden Valley's associate marketing director. Instead, her team made a commercial about the Super Bowl.
On Jan. 21, in partnership with the women's blogging network SheKnows, Hidden Valley released a two-minute parody of halftime performer Katy Perry's Last Friday Night. Called It's Sunday Night, the video's about parents who can't attend a Super Bowl party because they have to take care of their children, then show up anyway with a bottle of ranch.
The online clip stars Kim and Penn Holderness, 38 and 40, a married team who've received millions of hits for their hokey YouTube videos. In each the couple and their two young kids rap about how hard-core their clean-cut suburban lifestyles aren't. (Sample lyrics from the Hidden Valley song: "We'll have wings at our crib/ but we'll eat 'em with a bib/ and we'll still spill all the dip.")
Ranch dressing is one of many products the family has promoted this winter. In December, Weight Watchers asked them to sing a medley of food-themed Christmas songs for its website. Before that, the Holderness clan did campaigns for the children's clothing store Chasing Fireflies and Hasbro's Monopoly.
"There's clearly something here that the average suburbanite finds funny and that companies think they can leverage right now," says Derek Rucker, a marketing professor at Northwestern University's Kellogg School of Management. Clorox, which owns Hidden Valley, spent in the "low six figures" on its commercial, and Kim says her family received a small portion of that. (The Holdernesses won't reveal how much revenue they've earned from advertising appearances; they also run a -marketing company, Greenroom Communications, which provides their primary income.)
Penn writes the parody songs himself, including the backing tracks, to avoid any -licensing fees. The first, uploaded in December 2013, came about because Kim "couldn't get her act together to send out Christmas cards," she says. Called #Xmas Jammies and set to the tune of Will Smith's 1997 song Miami, it mixes family updates with jokes about pajamas. It's been viewed almost 16 million times; Saturday Night Live parodied it last fall. "This is pretty spot on," Penn wrote on the family's blog after the sketch aired. "Except for the affair and the sociopathic children." After that, the family made videos for Halloween, Thanksgiving, and back-to-school season.
The yuppie-emcee gimmick has been around since at least 2009, when Taco Bell parodied Puff Daddy's It's All About the Benjamins with a commercial showing white kids roaming a cul-de-sac. A year later, Toyota came out with its Swagger Wagon commercials, in which a husband and wife rhyme about their minivan. Last year, Fiat produced a British commercial in which a blond mom raps about her "babes" (actual babies), "bitches" (two dogs), and "hose" (from the garden), while leaning against her clean, white car. All of these featured actors. "There are a lot of personalities trying to leverage the family dynamic right now, but the Holdernesses are the only ones who are an actual family," says Samantha Skey, chief revenue officer of SheKnows.
Next, in March, the family will get their own reality show, on the wholesome cable network UPtv. They've also become stars on SheKnows, which has a monthly viewership of 78 million, according to ComScore. That's about two-thirds of the Super Bowl's reach this year. Plus, as Rucker asks, "Why would [Hidden Valley] want to spend $4.5 million on a Super Bowl commercial to reach the wrong audience?" It's not as if young parents have time to watch the game, anyway. 
Before it's here, it's on the Bloomberg Terminal.
LEARN MORE