Group Files Campaign Finance Complaint Against Jeb Bush
The American Democracy Legal Fund says that Bush's political action committee is breaking the law.
By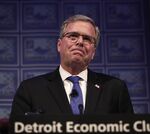 That was fast. 
A liberal group has filed a complaint with the Federal Election Commission claiming that prospective Republican presidential candidate Jeb Bush has already violated campaign finance laws, the Hill reported. 
The American Democracy Legal Fund contends that Bush is in violation of the Federal Election Campaign Act of 1971, which limits the amount of money that individuals can donate to exploratory committees for individuals who intend to use that money to run for office.
"Under the 2015-2016 election cycle limits, a candidate may not accept funds from individuals in an amount exceeding $2,700 per election," the watchdog group notes in its complaint, which argues that Bush clearly set up his Ready to Rise political action committee with the intention of transitioning to a full-fledged campaign for his party's presidential nomination. 
"Donor pledge forms for Mr. Bush's leadership PAC indicate that the PAC is encouraging bundlers to raise large sums of money—exceeding $500,000—to contribute to the leadership PAC," the filing reads. "There is no legitimate non-campaign purpose for such a large fundraising effort."
A spokeswoman for Bush's campaign said the complaint was "frivolous." 
"These are Democrat operatives who set up an organization whose sole purpose is filing frivolous FEC complaints against conservatives and conservative organizations," Kristy Campbell told the Hill. "Governor Bush, the Right to Rise PAC and the Right to Rise Super PAC are all fully complying with the law and following established practice for what political activity PACs and private citizens who are not candidates for office, such as Governor Bush, may engage in."
Bush, who is considered a frontrunner for the Republican nomination, has begun delivering speeches in which he is testing out possible campaign themes,