Greek Bonds Slide as Banks Roiled by ECB Warning Shot on Bailout
Lucy Meakin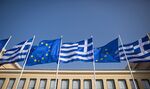 Greece's government bonds tumbled with bank debt and equities as the European Central Bank jolted markets with its decision to restrict access to funding lines for the nation's financial institutions.
Greek assets had already slumped after the anti-austerity Syriza party triumphed at Jan. 25 elections. Now, the ECB's decision will raise financing costs for the nation's lenders, adding to pressure on the newly elected government to moderate its policies or risk sterner measures that may jeopardize Greece's membership of the 19-nation currency bloc.
"This is clearly a warning shot," said Christian Lenk, a fixed-income analyst at DZ Bank AG in Frankfurt. "It's certainly showing that the ECB is not willing to let the new Greek government go ahead the way it was planning to go."
Greek three-year note yields increased 45 basis points, or 0.45 percentage point, to 16.78 percent at 4:45 p.m. in London. The ASE Index of stocks in Athens dropped 3.4 percent, with a gauge of lenders slumping 10 percent, while the bonds of Greece's four biggest banks also declined. The cost of insuring against losses on Greek sovereign debt jumped and credit-default swaps now signal there's a 68 percent chance the nation will default within the next five years.
The yield on Greek three-year notes surged from last year's low of 3.07 percent set in August as the rise of Syriza threatened the austerity measures demanded by international creditors in return for financial aid. Greece's bonds already came through the biggest debt restructuring in history after private bondholders wrote down about 100 billion euros ($114 billion) in 2012 as part of its bailout agreement.
Flagging Risks
The government is holding fast to its demand to roll back austerity measures. Talks between Finance Minister Yanis Varoufakis and his German counterpart Wolfgang Schaeuble in Berlin Thursday yielded no agreement on how to narrow their differences. Varoufakis called for a bridging program until the end of May and said Greece will do everything to avoid default.
While they stabilized at the start of this week, markets are already flagging rising risks on Greek assets.
Greek bonds pared declines with their Spanish and Italian peers amid speculation the ECB's 1.1 trillion-euro bond-buying plan will shield euro-area debt from the the latest financial turmoil.
The yield on Greece's 10-year bonds were little changed at 9.69 percent after climbing to 10.77 percent. While they're below the post-election high of 11.40 percent set on Feb. 2, the yields are up from 8.41 percent on Jan. 23, before the vote. The price of the 2 percent bond due in February 2025 was at 60.94 percent of face value.
Investor Concern
Three-year notes yield about 7 percentage points more than the 10-year securities. That may reflect investors' concern they won't get paid back in full.
Credit-default swaps on $10 million of the country's bonds now cost $4.2 million in advance and $100,000 annually, according to CMA. That compares with $4 million upfront yesterday.
Since former Prime Minister Antonis Samaras announced presidential elections in December, intraday stock swings for the ASE have doubled from their one-year average, data compiled by Bloomberg show. Before a rebound earlier this week, Greek banks fell to a record, losing more than 8.6 billion euros of market value in the three days ended Jan. 28.
Piraeus Bank SA dropped 9.7 percent and National Bank of Greece SA slid 20 percent. The bonds of National Bank of Greece and Piraeus Bank also led declines in Bank of America Merrill Lynch's Euro Financial High Yield Index.
Knuckle Down
The next move may be up to Prime Minister Alexis Tsipras, who swept to power promising to reverse five years of spending cuts that accompanied 240 billion euros of bailout loans.
The ECB "is testing," Hans Humes, founder of Greylock Capital Management LLC, which owns Greek debt and equity, said in an interview on Bloomberg Television's "Street Smart" with Trish Regan on Wednesday in New York. "There was a bit of momentum coming from Tsipras and Varoufakis's roadshow. This may just be a call for them to get serious and knuckle down. We'll see the reaction."
Rating company DBRS Ltd. placed Greece under review, citing risks to financial stability and debt sustainability.
German bonds were little changed Thursday. The yield on 30-year German securities was at 0.96 percent after earlier touching 0.902 percent, the lowest since Bloomberg started tracking the data in 1994. The rate on the nation's two-year notes dropped to as low as minus 0.21 percent, while the 10-year yield was at 0.37 percent.
Losses Limited
Spain's 10-year yield climbed two basis points to 1.45 percent and Italy's was little changed at 1.54 percent.
Losses may be limited by the prospect of the ECB's bond-buying plan, announced last month, according to Stephen Cohen, chief investment strategist for international fixed income at BlackRock Inc.
ECB President Mario Draghi pledged Jan. 22 to tackle slowing price growth by pumping money into the region's economies through purchases of public and private debt. Since the day before the announcement, German bonds have returned 1.5 percent, Italy's have added 2 percent, while Greece's slumped 2.9 percent, according to Bloomberg World Bond Indexes.
"The key thing is, what is the contagion outside of Greece?" Cohen said in an interview on Bloomberg Television's "On The Move" with Jonathan Ferro. "If you go back two or three years ago, anything like this and you'd have seen an immediate reaction in other markets. Interestingly in the last couple of weeks, what you've seen really is that it has been fairly muted. The big game changer is the ECB."
BlackRock is the world's biggest money manager, with more than $4 trillion of assets under management.
Greek debt delivered the worst returns among euro-area sovereign securities tracked by Bloomberg's World Bond Indexes this year through Wednesday. They lost 0.9 percent, while Germany's returned 2.2 percent and Italy's earned 2.9 percent.
Before it's here, it's on the Bloomberg Terminal.
LEARN MORE