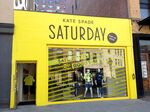 In the fashion business, it seems, everybody wants to be Ralph Lauren. The company epitomizes the so-called aspirational lifestyle brand, able to book huge sales at premium prices for everything from clothing to furniture to dinnerware. Kate Spade, another designer-inspired company, dreamed of following that path. In 2008 it recruited Craig Leavitt, a Ralph Lauren executive, as its chief executive officer. But while shoppers continue to fawn over its colorful totes, satchels, and clutches—sales were up more than 40 percent in 2014—the company is learning that creating a buzzy lifestyle brand is more difficult than it seems.
In late January, Kate Spade announced the closing of all 19 of its neon-yellow Kate Spade Saturday stores, ending two years of experimentation with its offshoot brand. A sassier, cheaper alternative to Kate Spade New York, Saturday served up striking styles in vivid colors: cotton jerseys in dazzling red and hot-pink zigzag card cases. At about half the price of its grown-up sister brand, merchandise was meant to introduce younger women to the Kate Spade lifestyle.
The extension proved to be a bridge too far. Clothes designed with a fun vibe for a professional woman in her 20s didn't pair with Kate Spade's designer feel. The stores were mostly filled with clothing, though the brand is best known for handbags and leather goods. Ultimately, Kate Spade Saturday had a hard time finding its identity, and the company will now sell the youthful goods as a line within many of its 178 remaining stores. It's also shuttering its 12 Jack Spade men's stores; that merchandise will be sold online and through retail partners.

"The best path was to apply all the learnings from the Kate Spade Saturday brand and incorporate it into our Kate Spade New York brand," Leavitt said following the announcement. "It's a very big undertaking to launch and nurture a brand from scratch." The company declined additional comment.
Popularity isn't enough to enable a clothing line to become a lifestyle brand, says Renée Richardson Gosline, a marketing professor at MIT's Sloan School of Management who previously worked at LVMH Moët Hennessy and ad agency Leo Burnett. To inspire loyalty that travels across a range of products, Kate Spade needs to offer some kind of unique feeling—not just a vague idea of luxury, Gosline says. Each new product must fit that brand identity and carry the same signal of status, or else it dilutes the label, she says.
Founded in 1993 by Kate and Andy Spade, the label has ventured far from its roots as a handbag maker. Once a senior fashion editor at Mademoiselle, Kate went on to use vibrant colors on classic, practical silhouettes, and women were attracted to her bags' stylish simplicity. Their success led luxury stalwart Neiman Marcus to purchase a majority stake in 1999. The founding couple left the business for good in 2006, after midmarket apparel company Liz Claiborne bought it for $124 million. Since then, Claiborne has shed its women's dress business, Lucky Brand sportswear, and its Juicy Couture line, changing its corporate name to Kate Spade in 2014.
Kate Spade remains in an experimental phase, says Mary Ross Gilbert, an analyst at Imperial Capital. It logged 2014 net sales of $1.1 billion, yet it's much smaller than rivals such as Michael Kors Holdings and Coach. So it's looking for big ideas to reach a long-term retail sales goal of $4 billion a year. Since 2013, the company's collaborated or introduced product lines in children's clothes, swimwear, and home goods. This fall it plans a clothing and accessories line for newborns and infants.
Many fashion companies have expanded their closets to broaden their reach. Some roll out higher-end brands, whose glamorous runway shows can generate buzz and garner credibility for the garments in their primary label. Think Burberry's Burberry Prorsum, where fashionistas can find couture suede or lace trench coats more than double the price of usual cotton counterparts. Others shift into less expensive sportswear, as Marc Jacobs did with Marc by Marc Jacobs and Giorgio Armani did with A/X Armani Exchange.
But Saturday's move down the prestige ladder proved jarring for a company that already flaunts the affordability of its main line. "The issue is Kate Spade New York is not an über-luxury brand, it's an aspirational luxury brand," says Nomura Securities analyst Simeon Siegel. "Then you have another concept that's a little bit more confusing. It's a discounted version of something that is already accessible."
—With Lindsey Rupp
The bottom line: Kate Spade's sales rose more than 40 percent in 2014. But its new chain selling cheaper goods was a disappointment.
Before it's here, it's on the Bloomberg Terminal.
LEARN MORE