Emboldened Progressive Democrats Gather to Plot Strategy
House members representing the left wing of the party will convene a two-day Philadelphia retreat that begins on Thursday.
By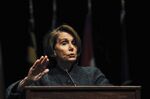 (Bloomberg)—About 30 House Democrats who regard themselves as the far-left of their party gather for a two-day policy retreat starting Thursday in Philadelphia, with Senator Bernie Sanders as their keynote speaker and a more-biting edge in their agenda.
The event comes one week after most of the 188-member House Democratic Caucus met for their caucus-wide retreat in the same city.
Representative Raul Grijalva of Arizona, a co-chairman of the Congressional Progressive Caucus, jokes that group won't exactly be pushing for "a redistribution of wealth." But he promised, "We're going to be edgier," than Democrats were last week.
Grijalva said House progressives are, in fact, finding themselves more satisfied and on board with the general party message nowadays that Democrats are the one's fighting for everyone to grab a piece of middle-class opportunity.
That agenda spelled out last week includes such progressive priorities as a higher minimum wage, tax increases on the rich, and backing the President Obama's health care law.
There remains intense progressive opposition to Obama's request for power to negotiate trade deals with little congressional say-so. And the retreat will focus some more on that battle, according to an agenda of the event.
Among guests set to speak at the progressive's retreat will be AFL-CIO president Richard Trumka, a leading voice against the president's fast-track trade request. He also appeared last week at the full House Democratic retreat.
Sanders, an independent from Vermont, is considering a potential run for president in 2016, will give the keynote address today.
He is a founding member of the Congressional Progressive Caucus, which altogether claims about 70 members on its website. And invitation extended to another leading progressive in Congress, Senate Elizabeth Warren of Massachusetts, was declined because of scheduling conflicts.
With guests, family members and others included, about 200 people are expected to attend at the Sonesta Philadelphia Hotel. That will include representatives of such groups as MoveOn.org and Netroots Nation.
Also set to make an appearance with regard to environmental issues are Jeffrey Sachs, an American economist and director of The Earth Institute at Columbia University.
The House's top Democrat, Nancy Pelosi of California, will be attending the weekend progressive event, as well as the No. 2 House Democrat, Minority Whip Steny Hoyer of Maryland. Budget Committee top Democrat Chris Van Hollen of Maryland also will be there.