Devaluation Edging Ukraine Closer to IMF Aid Helps Bonds Recover
Lyubov Pronina, Halia Pavliva and Marton Eder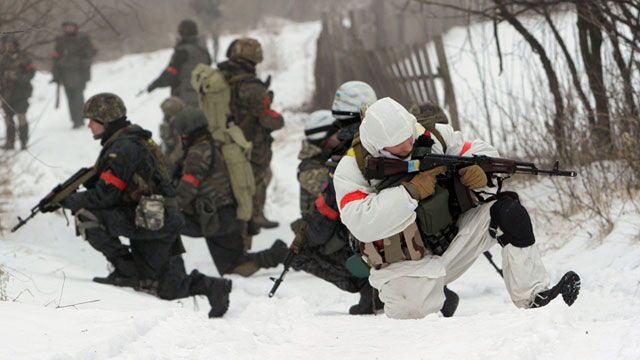 Ukraine, whose economy has been battered by a war against pro-Russian rebels, is moving closer to winning needed financial support from abroad.
The country devalued its currency by 31 percent Thursday, a move that earned praise from the International Monetary Fund amid talks for a bailout and boosted optimism among bond investors. Ukraine's $17 billion of foreign notes gained the most in almost two weeks.
Ukraine is seeking to stave off a default as intensifying fighting between government troops and pro-Russian rebels in the nation's east pummels the economy and pushes its foreign reserves to an 11-year low. While an IMF mission is in Kiev discussing an extension to a $17 billion bailout from 2014, German Chancellor Angela Merkel and French President Francois Hollande met with Ukrainian President Petro Poroshenko Thursday in what Hollande called a "first step" to resolve the 10-month conflict.
"It brings Ukraine closer to ultimately unlocking funds from the IMF and other official lenders," Marco Santamaria, a money manager at AllianceBernstein LP, which oversees $27 billion of emerging-market debt, said in an e-mail. "It does appear that there is a stronger diplomatic initiative being put together, but the outcome ultimately rests in Mr. Putin's hands."
Merkel and Hollande are headed to Moscow to present a counter-proposal to a cease-fire plan drawn up by Russian President Vladimir Putin. The German chancellor is pessimistic about Putin's willingness to defuse the crisis, according to a person familiar with the matter, who asked not to be identified discussing government strategy.
Conflict Worsening
European Union foreign-policy chief Federica Mogherini called Wednesday for an immediate three-day cease-fire to allow evacuation from the railway crossroads of Debaltseve, the scene of the fiercest fighting. The violence has killed more than 5,000 people and wounded over 12,000, the United Nations estimates.
Ukraine needs about $15 billion of "additional, incremental" funding, Finance Minister Natalie Jaresko said Tuesday. The government plans to consult with holders of its sovereign bonds about a potential restructuring after finalizing new IMF cash, she said.
While discussing an expanded bailout, the Washington-based IMF is seeking to limit its share of the burden, according to two people with knowledge of the institution's stance. The IMF doesn't want to provide more than two-thirds of a new loan, said one of the people, who requested anonymity because the discussions are private.
Hryvnia Sinks
Central bank Governor Valeriya Gontareva scrapped the hryvnia's indicative rate and canceled daily currency auctions to help eliminate what she called "multiple exchange rates" in interbank and unofficial markets. The IMF is supportive of the bank's latest decisions, Gerry Rice, a spokesman for the lender, said at a briefing in Washington.
The hryvnia weakened 3.6 percent to 25.25 to the dollar at 4:13 p.m. in Kiev, extending Thursday's record plunge. Ukraine's dollar-denominated bonds due in July 2017 rose 0.3 cents to a six-day high of 53.93 cents on the dollar, adding to yesterday's 0.8 cents jump and reducing yields to 40.6 percent.
While a more flexible exchange rate is a precondition for IMF support, the devaluation is no cause for optimism, said Lutz Roehmeyer, who owns Ukrainian debt among the $1.1 billion of emerging-market assets he oversees at Landesbank Berlin Investment GmbH.
"The situation in Ukraine is worse than I thought," Roehmeyer said by e-mail from Berlin. The hryvnia's drop "is just a realization of the truth by officials that fundamentals have weakened a lot."
'Long Overdue'
The former Soviet republic is also facing a potential demand from Russia for the early repayment of a $3 billion loan that was part of a rescue agreed by Putin and former Ukrainian President Viktor Yanukovych in December 2013.
The central bank said Dec. 30 that Ukraine's economy probably shrank 7.5 percent in 2014.
"This devaluation is long overdue, and helps the economy to rebalance and eventually gain some growth momentum," Bryan Carter, who helps manage about $350 million of emerging-market debt at Boston-based Acadian Asset Management, said in an e-mail. "The country is in recession and has lost competitiveness versus other currencies in the region that have devalued over the past year."
Before it's here, it's on the Bloomberg Terminal.
LEARN MORE