Denmark Pledges More to Come If Speculators Still Doubt Peg
Frances Schwartzkopff and Peter Levring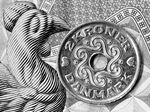 Lars Rohde, the governor of Denmark's central bank, addressed speculators in what he said was a verbal intervention designed to stamp out any lingering doubts that he can preserve the krone's peg to the euro.
After cutting the benchmark deposit rate for a fourth time this year, matching Switzerland's key rate of minus 0.75 percent, Rohde said in an interview yesterday he's ready to do more to prevent the "unthinkable" outcome that Denmark might lose its euro peg.
There is no limit to how low rates can go and how large foreign currency reserves can grow, Rohde said. "The message is that if it's not enough, we will do even more," he said. "Either we can expand our balance sheet or we can go deeper into negative territory with the interest rates. That is a possibility and no one should try to outguess us here."
Denmark has resorted to an unprecedented palette of measures to prevent the krone appreciating, including raising foreign reserves by a record $16.3 billion last month to about 30 percent of gross domestic product and suspending government bond sales to drive down longer yields. Speculation against the bank's ability to preserve its currency regime grew after the Swiss National Bank abandoned its euro cap and as the European Central Bank embarks on an unprecedented bond-purchase program.
Denmark's swelling currency reserves aren't a reason for concern, Rohde said.
'Forever'
"We can go on forever," he said. "Our interest rates are more negative than the interest rates abroad, so we can for example invest in euro-denominated bonds, short-term bonds, and we will still have a carry."
Other measures the central bank is looking into include direct purchases of government bonds and even mortgage bonds, Rohde said. "We're not ruling anything out," he said.
The bank's words and actions are making an impression.
"Honestly, I don't believe the market really has the stomach for a fight on this one," David Bloom, global head of currency strategy at HSBC Holdings Plc in London, said in an interview with Bloomberg Television.
The extreme policy measures to date have driven down Danish yields, forcing banks to rethink their operations as they struggle to adjust to negative rates. The country's mortgage banks met with the government yesterday to discuss a potential unified industry response to the rate climate.
Mortgage Yields
Yields on Danish government bonds are negative for all maturities as long as five years, while mortgage bond yields trade below zero for maturities as long as three years. A number of mortgage banks have started offering a fixed-rate 1.5 percent bond-backed loan with a 30-year maturity, the lowest in Denmark's history.
Denmark, one of only four AAA rated nations left in the European Union, rejected euro membership in a 2000 referendum. The central bank has since defended the krone's peg to the euro, and before that to the deutschmark, starting in 1982.
Rohde's job is to target 7.46038 kroner per euro inside a tolerance band of 2.25 percent. In practice, the bank never lets the krone stray more than 0.5 percent from the target.
Rohde said the central bank hasn't coordinated its steps to date with the ECB, which is contractually obligated to support the peg should it ever breach its tolerance band. Denmark doesn't need help from the ECB when the challenge is preventing the krone from appreciating, he said.
The question of whether the ECB will step in is a "non-issue," Rohde said. "This is a very special situation, because as everyone knows, we are all in negative territory in Europe but we are the only supplier of kroner. And we have unlimited access to Danish kroner, so we don't have to have any coordination with anybody else."
Before it's here, it's on the Bloomberg Terminal.
LEARN MORE