After Making Him Wait, Christie Talks Energy With Alberta Premier
Terrence Dopp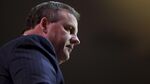 New Jersey Governor Chris Christie met with Alberta Premier Jim Prentice in Trenton for an hour-long talk about jobs, energy and TransCanada Corp.'s stalled Keystone XL pipeline.
Christie, who returned from a trade mission to England on Wednesday, arrived late and kept Prentice waiting about 25 minutes. Prentice said he wasn't bothered by the delay. "We're all busy," he said.
The Canadian leader later told reporters that Christie was in "fine form" and good spirits during the meeting, which came after the governor faced criticism during the England trip for comments he made about vaccination.
"On a personal level he is an extremely influential person in American politics -- someone who's been outspoken in his support of Canada, free trade and the energy system," Prentice said as he emerged from the meeting.
Christie arrived late for the meeting through a back entrance and stayed out of sight in his office. He and Prentice didn't appear together before reporters.
Michael Drewniak, a spokesman for Christie, declined to comment on the governor's tardiness.
England Trip
When the premier was asked whether he would be meeting with a New Jersey governor if he wasn't considering a run for president, he said his trip "has nothing to do with that."
"Clearly, my place is not to be involved in the American political process," Prentice said.
Christie, 52, sparked outrage from doctors and Democrats back in the U.S. on Monday after he told reporters in England that parents "need to have some measure of choice" when deciding whether to vaccinate their children. On the third and final day of his trip, scheduled time for questions from reporters was canceled.
The England trip was Christie's third foreign trade mission in five months. He was in Mexico last September and Canada in December.
Christie formed a political action committee last month and has political appearances scheduled in Iowa, New Hampshire and Florida as well as fundraisers in 10 states.
During his Canada trip, he told oil executives in Calgary that the U.S. has too often overlooked its northern neighbor and should allow the Keystone pipeline, which President Barack Obama has yet to approve. Christie and Prentice exchanged craft-brewed beer and held a news conference together.
Emily Woods, a spokeswoman for the premier, said he was traveling from Washington to an appearance in New York as part of a week-long U.S. trade mission and wanted to repay the courtesy of a visit.