Blackstone's Schwarzman Gets $500 Million Leading Buyout Titans
Devin Banerjee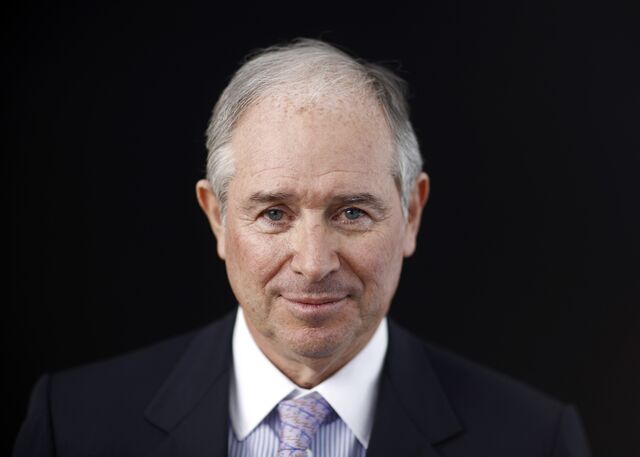 Steve Schwarzman, the billionaire co-founder of Blackstone Group LP, is pulling ahead as the richest man in private equity.
Schwarzman, 67, collected more than $500 million in dividends in 2014 as Blackstone had its most profitable year, according to data compiled by Bloomberg. The payout for Apollo Global Management LLC's Leon Black, who received the most in dividends among peers the prior year, fell 27 percent to $268 million, based on shareholder distributions the firm announced on Thursday.
Schwarzman, whose father owned a dry-goods store in Philadelphia, has seen his wealth jump 7.2 percent in the first five weeks of this year to $11.7 billion, according to the Bloomberg Billionaires Index, as New York-based Blackstone's stock has climbed to an all-time high.
"After breaking several asset and earnings records in 2013, we again shattered those records in 2014," Schwarzman said last week on a call with analysts and investors.
Private equity executives are among the wealthiest Americans, with Schwarzman ranking 39th on the index, KKR & Co. co-founder George Roberts placing 83rd and Apollo's Black coming in at 99th. Top leveraged-buyout managers, most of whose payouts will be detailed in filings with the U.S. Securities and Exchange Commission this month, get the majority of their income from dividends on their ownership in the firms, which increase as the firms sell holdings. Salaries top out at a few hundred thousand dollars a year.
Bank Pay
Compensation at the largest banks, which have reined in pay since the financial crisis, pales in comparison to the rewards offered at the top echelons of private equity, where assets have soared 69 percent since 2008 to $3.8 trillion. JPMorgan Chase & Co. awarded Chief Executive Officer Jamie Dimon $20 million in salary, bonus and restricted shares for 2014. Goldman Sachs Group Inc. gave CEO Lloyd Blankfein $24 million in salary and cash and stock bonuses for the year, a person with knowledge of the pay said last month.
Black, 63, collected less than in 2013 after New York-based Apollo paid out a lower amount to shareholders as its pace of asset sales slowed. Apollo on Thursday said profit for 2014, including unrealized gains, fell 71 percent from $2 billion the prior year, driven by fewer sales and slower appreciation in its buyout funds.
"We are a cyclical business, and we are moving from a heavy harvesting phase into more of a deployment phase," Martin Kelly, Apollo's chief financial officer, said on a call Thursday with analysts and investors.
Partnership Units
Black, a former Drexel Burnham Lambert dealmaker who founded Apollo in 1990 with Josh Harris and Marc Rowan, owns the same class of stock as other shareholders and collects the same per-share dividend. Apollo is paying out $2.89 a share for the year, compared with $3.98 in 2013.
Blackstone's executives own partnership units, which in the past three years have paid out 16 percent more on average than shareholder units. At that rate, Schwarzman will have taken home about $568 million last year, up from $353 million in 2013, as the firm declared a record distribution. The partnership dividend will be disclosed in the firm's annual report filed with the SEC later this month.
Carried Interest
Schwarzman, who started Blackstone with Peter G. Peterson in 1985, also typically receives a $350,000 salary and carried interest, which in 2013 was $21.6 million.
Blackstone last week reported 2014 profit of $4.3 billion, a 24 percent increase from the previous record in 2013. The jump was driven by sales of buyout holdings, including shares of hotel operator Hilton Worldwide Holdings Inc., packaged-foods distributor Pinnacle Foods Inc. and theme-park operator Merlin Entertainments Plc.
Private equity firms globally reaped a record $428 billion by selling holdings last year, a 30 percent increase from 2013, according to research firm Preqin Ltd.
KKR's Roberts and Henry Kravis, the firm's co-founders, in 2013 received $166 million and $161 million, respectively, consisting of dividends, carried interest and $300,000 in salaries each. Bill Conway, Dan D'Aniello and David Rubenstein, the founders of Carlyle Group LP, took home $93 million each that year in dividends and $275,000 salaries.
Black typically takes a $100,000 salary and no carried interest, earning virtually all of his income in the distributions on his ownership of Apollo stock.
Tax Treatment
Apollo last year started aligning the incentives of more top dealmakers with the company's shareholders. In a July regulatory filing, the firm said partners in its private equity group will receive part of their carried interest in restricted stock that vests over three years, rather than in cash.
Private equity dealmakers are once again seeing some of their compensation at risk of being taxed at higher rates. President Barack Obama, in his proposed budget for the 2016 fiscal year, revived a plan to tax carried interest, known as carry, as ordinary income rather than a capital gain. The change would raise $17.7 billion over 10 years, according to White House projections released this week.
"We should be vigilant about this and recognize that this is an incredibly important issue," said Steve Judge, CEO of the Private Equity Growth Capital Council, which represents more than 35 firms in Washington. "But I don't think that there's a broad consensus yet to change the tax treatment of carry at the current moment."
Before it's here, it's on the Bloomberg Terminal.
LEARN MORE