Billionaire Benson's Daughter Says Spurning of Heirs Puzzles Her
Margaret Cronin Fisk and Laurel Calkins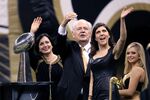 Renee Benson, jilted daughter of New Orleans Saints owner Tom Benson, told a Texas judge Wednesday she has no idea why she and her two children were abruptly cut from the billionaire's life right after Christmas.
"I just heard from other people he was mad at me, and I said, 'Really? Why?'"
Renee Benson and her children, Rita and Ryan LeBlanc, who are known as the "Three Rs," played integral roles in running Benson's sports franchises, banks and automobile dealerships.
Tom Benson, who also owns pro basketball's Pelicans, fired all three in December, repossessed their cars and took hundreds of millions of dollars in assets from their trusts. The disenfranchised heirs are trying to persuade a judge in San Antonio to turn control of the trusts over to them as part of a two-front legal battle that includes a New Orleans case seeking to have a conservator appointed to make all of Benson's personal and business decisions.
Renee and Ryan had run the family's Texas-based Lone Star Capital Bank NA and car dealerships from San Antonio. Rita was vice-chairman of both the Saints' and Pelicans' organizations.
Slighted Heirs
The slighted heirs responded with lawsuits claiming the 87-year-old self-made tycoon is being manipulated by his wife and may be mentally incompetent. As evidence, they pointed to Benson's alleged preferred diet of candy, ice cream, soda and red wine.
"Things are just not right," the family said in a court filing. They asked the courts to step in to protect Benson and "his hard-earned estate." Benson's net worth is estimated at $1.7 billion, according to the Bloomberg Billionaires Index.
In state court in New Orleans, where Benson lives, a court hearing is set for next week.
Third Marriage
Renee Benson testified Wednesday in San Antonio that she found it increasingly difficult to meet or phone her father after his third marriage, which occurred in 2004, less than a year after the death of his second wife.
She said that by 2012, she could reach her father only by calling his office and wasn't allowed unsupervised visits with him.
"Whenever I did get to see him, she was always there," Renee said, referring to her stepmother, Gayle Benson. "I can't get e-mails, letters or calls to him without them being screened."
Her father's personality was "forceful, very robust, very with it," until recently, she testified. She said she has noticed significant declines in his memory and health during the past year.
'Very Short'
"His long-term memory is still great," Renee testified in a day-long hearing in probate court. "But his short-term memory is very short. In 30 minutes he might ask you the same questions four or five times."
When asked if the tycoon can still effectively manage the multimillion-dollar trusts he established for his daughter and grandchildren, Renee answered quietly, "Unfortunately, no."
Renee says she hasn't been able to ask why her father stopped sending $10,000 monthly distribution checks from her mother's trust, as he's done for 20 years. He's refused to see or speak to her since late December, when he sent her and her children a terse e-mail, she said.
Tom Benson agreed that he spent years coaching his daughter and her children in all aspects of the family businesses, "to groom them into the type of business persons that he could have confidence in" to take over after his death, his lawyer, Phil Wittmann, said in court papers. They "never rose to the task," Wittmann said.
Children's Attitude
Benson's Dec. 27 e-mail severing the ties with his daughter and her children pinpointed their attitude toward his wife as a big part of the problem.
"Suddenly after I remarried you all became offensive," Benson said in his post-Christmas e-mail, which is part of the court file, adding the former heirs didn't act appropriately and argued among themselves. "Because of the facts set out above and the heartbreak you have caused me, I want no further contact with any of you."
Wittmann asked Renee Benson Wednesday if she liked her father's wife.
"I think she's intelligent; she can put on stockings standing straight up," Renee said. "There are things I admire about her, but she's kept a lot of people away from my father," and that rankles. "At this point in time, not really."
Marriage Vows
Renee acknowledged she didn't attend when Benson and his wife renewed their marriage vows in New Orleans in October, although her children went. She and her family also haven't opened "a bucket" of Christmas gifts Benson sent them in lieu of an invitation to his holiday celebration in New Orleans. "We're not going to open them unless he's there," she said.
Renee said she didn't know whether her daughter, Rita, used "profane language" during a halftime confrontation with Gayle at a recent Saints' game.
"Your daughter said some really nasty things" to her grandfather's wife, Wittmann said.
"My daughter was begging Gayle to let my dad see me," Renee replied.
Renee insisted she doesn't believe her father wrote the e-mail firing her and her children or that he intends to cut her from his life.
"I don't believe that was my dad," she said. "I don't believe he did any of this."
"You don't believe it, but the fact is it's happened, hasn't it?" Wittmann countered.
The hearing is set to continue in San Antonio Thursday.
The Texas case is Renee Benson v. Thomas Milton Benson Jr., 155,572-A, Probate Court No. 2, Bexar County, Texas (San Antonio). The Louisiana case is In Re: Interdiction of Thomas Milton Benson Jr., 15-655, Civil District Court for the Parish of Orleans, Louisiana (New Orleans).