Basci Besieged as Investors Add to Erdogan Jabs on Policy
Constantine Courcoulas and Selcuk Gokoluk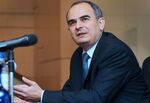 With President Recep Tayyip Erdogan bearing down on him over interest rates, Turkish central bank Governor Erdem Basci is now at risk of alienating investors who want to see evidence of greater autonomy on policy.
Basci's decision to tie holding an emergency interest-rate meeting this week to the outcome of an inflation report caused "tremendous damage" to the central bank's credibility, according to Societe Generale SA's Benoit Anne. The move made "everyone uneasy," said Commerzbank AG's Simon Quijano-Evans.
While the "interim" policy meeting, as it was later rebranded by Basci, was canceled Tuesday after consumer prices didn't fall the required amount, some analysts saw his willingness to hold a special review as bending to government pressure to cut borrowing costs. Yields on two-year notes jumped the most in 19 months the next day, with the lira falling to a record, after Erdogan questioned the wisdom of maintaining the central bank's independence.
"Governor Basci has a tough job, he's stuck between the market and President Erdogan," Anne, head of emerging-market strategy at Societe Generale, said Thursday by e-mail. "Investors don't like political pressure on central banks and they blame Basci for coming across as excessively dovish."
Central bank spokesman Yucel Yazar declined to comment for this story when he was contacted Thursday by phone.
Consumer-price inflation slowed to 7.24 percent in January, missing by seven basis points the 1 percentage point reduction Basci required to convene the meeting. The median estimate in a Bloomberg survey of economists was 6.8 percent.
Currency Effect
While core-inflation indicators continued to show improvement and the effect of oil-price declines on producer costs were sustained, the downward move was limited by exchange-rate developments, the central bank said in an assessment posted on its website Wednesday.
Brent crude fell 50 percent from last year's June high and traded at $58.07 a barrel at 4:54 p.m in Istanbul. Turkey imports more than 90 percent of its oil and about 70 percent of its total energy needs, energy ministry data show.
The lira fell 1.2 percent to 2.4635 against the dollar after weakening to a record 2.4667 on Wednesday.
"This is a time when it is very important for central banks to be able to decide on their own," said Quijano-Evans, Commerzbank's head of emerging-market research. "Otherwise, the risk of currency overshooting increases, again blurring the picture for policy."
'Wrong Mentality'
Erdogan has repeatedly called for lower borrowing costs to support economic growth even as the central bank cut the benchmark rate by 50 basis points to 7.75 percent last month. He said Wednesday making lower rates dependent on slowing inflation is the result of the "wrong mentality."
"Unfortunately, this is the point we come to when the institution is independent," Erdogan said.
The benchmark one-week repurchase rate has been lowered by 225 basis points since Basci last held an emergency meeting in January 2014, when it was more than doubled to 10 percent to arrest the lira's slide.
The next scheduled meeting of the bank's monetary policy committee is on Feb. 24.
"Basci has been quite smart, linking his decision to the inflation data," Guillaume Tresca, an emerging-market strategist at Credit Agricole SA in Paris, said by e-mail Thursday. "For two decimals, he decided not to cut. It gives a little bit more credibility to the" central bank, he said.
'Stayed Quiet'
Erdogan's call this week for a cut in central bank rates isn't leading to lower bond yields.
Two-year government note yields climbed 115 basis points this week, the biggest weekly increase since July 2013. They fell to 6.69 percent on Jan. 28, a 19-month low, as investors anticipated a reduction in rates.
Turkish local-currency bonds returned 8.9 percent last year, the most in eastern Europe, according to the Bloomberg Emerging Market Local Currency Sovereign Index. They have lost 2.1 percent this year, in line with the regional average.
"If I had been in the governor's shoes, I would have stayed quiet and continued easing normally at each scheduled meetings," said Societe Generale's Anne. "Nothing wrong with that and in fact, Mr. Market was going to love it."
Before it's here, it's on the Bloomberg Terminal.
LEARN MORE