AstraZeneca Earnings Miss Estimates as Sales of Drugs Slip
Oliver Staley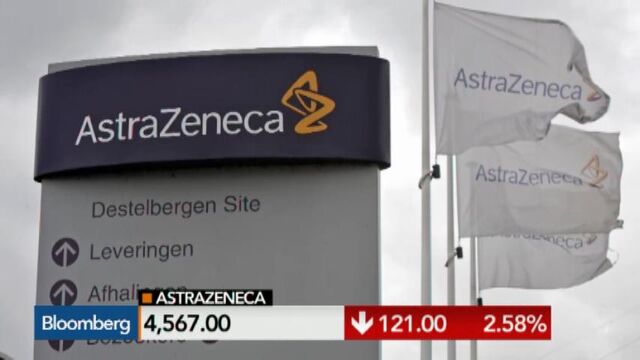 AstraZeneca Plc, the second-largest U.K. drug maker, said fourth-quarter earnings fell 33 percent as revenue declined for two of its best-selling drugs and the company spent more to develop and market new medicines.
Profit excluding certain items dropped to $1.18 billion, or 76 cents a share, from $1.54 billion, or $1.23, the London-based company said today in a statement. Earnings missed the 85-cent average of analyst estimates compiled by Bloomberg.
AstraZeneca, which turned down a $117 billion offer from Pfizer Inc. last year, faces increasing competition after its acid reflux drug Nexium lost patent protection and ahead of the 2016 expiration for the cholesterol pill Crestor. The company said today that revenue in 2015 will probably decline by a mid-single-digit percentage, while adjusted earnings will rise at constant exchange rates.
The revenue estimate falls below what analysts predicted and "it's not clear exactly how management intends to close the gap" to ensure earnings rise, Tim Anderson, an analyst at Sanford C. Bernstein & Co., said in a note.
AstraZeneca's shares fell 3 percent to 45.46 pounds as of 1:06 p.m. in London, paring the gain in the last 12 months to 17 percent.
The drugmaker will reduce general costs this year after spending more in 2014 to market new medicines, Chief Financial Officer Marc Dunoyer said in an interview. The rate of growth in research and development spending will also slow, he said.
Trimming Costs
"We will reduce spending compared to 2014, which must be seen as a peak," Dunoyer said. "In 2014, we had this ability to invest more than we thought," largely because a generic competitor for Nexium didn't emerge.
Chief Executive Officer Pascal Soriot has promised investors that AstraZeneca will return to growth, with annual revenue of $45 billion by 2023. To do that, it's focusing on boosting sales of its heart and diabetes treatments, and developing new cancer drugs that may be worth $12 billion annually.
Sales of Brilinta, a blood-thinning medicine, climbed 45 percent in the quarter to $133 million, a sign that Soriot's emphasis on the heart drug may be working. Revenue from diabetes drugs also rose. The company is committed to finding licensing and partnership deals to boost its pipeline in immune-oncology, CFO Dunoyer said.
Biotech Approach
AstraZeneca will develop drugs and rely on partners to market and sell them, Soriot said today. "The work we're going to do is similar to what a biotech would do."
Nexium revenue declined by 16 percent, while Crestor sales dropped 5 percent. The two medicines together accounted for a third of AstraZeneca's 2013 revenue, or $9.5 billion. The patent for Nexium expired in May, although no generic competitor is yet on the market.
Total sales for the quarter totaled $6.68 billion, missing the average estimate.
"AstraZeneca has delivered a notably weak fourth quarter and a disappointing sales outlook for 2015," said Alistair Campbell, an analyst at Berenberg.
AstraZeneca also said today it will buy rights to Actavis's respiratory portfolio in the U.S. and Canada for an initial payment of $600 million. The agreement covers drugs it bought from Almirall SA last year.
The company will redeploy some resources, Dunoyer said, without specifying targeted areas. Job reductions are possible, but there will be "no massive layoffs," he said.
Before it's here, it's on the Bloomberg Terminal.
LEARN MORE