A 60-Second History of RadioShack
by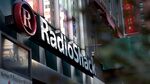 RadioShack's bankruptcy filing caps a nearly century-old history of supplying useful and sometimes strange things to America. Over the decades, the brand became one of the most famous in retail, dotting shopping centers across the country. Along the way came a parade of slogans, from "America's Electronic Shopping Center" to "You've Got Questions. We've Got Answers." 

 1921
The retailer gets its start as a small shop in Boston that sells ham radios. A radio shack was the wooden structure on ships that held the radio equipment.
1940s
It's the golden age of radio, and the company jazzes up its logo to reflect the times.

1950s
OK, enough of that nonsense. The store now has a room to showcase audio equipment such as amplifiers and speakers. The company begins omitting the definite article from its logo. Cool, at the time.

1960s
The chain's '60s makeover gives the logo a twist.
1963
Tandy Corp., which got its start as a supplier of leather-shoe parts in Texas, buys Radio Shack. The combined company would go by Tandy until 2000, when it switched to RadioShack.
1972
RadioShack sells its first fully electronic calculator.
1977
The company offers the first mass-marketed, fully assembled PC—you didn't have to build it yourself from a kit. The TRS-80 sported a Level II BASIC operating system created by a young man named Bill Gates.

1980s 
The new logo screams the '80s as loud as shoulder pads and red leather jackets.
1983
It's a laptop! Radio Shack brings us the TRS-80 Model 100, which the company calls "the first of its kind in the computer industry."
1984
Three years before Wall Street would come out, Radio Shack starts selling mobile phones.
1985
You can now buy satellite TV from the Shack.

1995
The off-center R is here, with a cool, crisp logo. The '80s are over.
2000
Tandy changes its name to RadioShack and begins trading on the New York Stock Exchange as RSH. The NYSE delisted the ticker this week.

2001
What's going on with that R?
2003
In a natural pairing, Shaquille "Shaq" O'Neal does ads promoting the retailer's small gadgets. It's funny because Shaq is large.
2004
With Shaq as its celebrity spokesman, RadioShack becomes the official consumer electronics retailer of the NBA.
2009
The company starts referring to itself as the Shack. 

2011
More fussing. What else was there to do?
2013
New York City is home to the first RadioShack "concept store," part of an effort to modernize the chain. More stores are converted to the new format, which showcases the latest technology in an Apple-ier atmosphere.
2014
The company makes a final effort at rebranding itself with the slogan "It Can Be Done, When We Do It Together."
2015
It can't be done.
Source: RadioShack
Before it's here, it's on the Bloomberg Terminal.
LEARN MORE