Why Obama's Keystone Decision Could Ride on a Single Footnote
A long, messy struggle between Obama and Republicans enters its minutiae phase.
By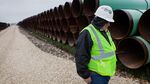 On Tuesday, the Environmental Protection Agency (EPA) published a letter of comment on the U.S. Department of State's year-old report assessing the viability, safety, and economic potential for Keystone XL, the final, $8 billion segment of pipe connecting Alberta's tar sands oil to the Gulf of Mexico. The EPA's letter met a Feb. 1 deadline for U.S. agencies to weigh in, and marks the fourth occasion it has given formal feedback on State's job evaluating the project. This time, the EPA was far kinder than in the past, when it rated State's research "inadequate-3" (the EPA's lowest score), called its efforts "insufficient," and seemed to relish listing all the flaws and omissions it could find. Despite the new letter's diplomatic head-pats, opponents of Keystone were quick to seize on it as proof that the "pipeline fails the President's climate test" for approval. 
Congress, of course, has already let Obama know they'd like him to green-light the pipeline. Presently, a group of legislators on Capitol Hill is merging House and Senate bills so a final version can be sent to the president's desk, even though Obama has indicated he'll veto it on procedural grounds.
Most of those in favor of the Keystone XL's construction do not see climate change as the defining issue. Instead, they cite job-creation and energy security. Pointing to the State Dept. report, in fact, the pro-Keystone crowd maintains that the pipeline will lead to only modest increases in greenhouse gas emissions—the assumption being that the tar sands oil will enter the market one way or another. But while this may have been true with oil prices near $100 per barrel, it's not as certain now. As noted in our Jan. 26 report, with oil prices low, the pipeline becomes critical for future tar sands mines to make their margins. 
It's little surprise then that the EPA now questions State's market forecasts in its reports, writing that it urges the White House to revisit how "construction of the pipeline is projected to change the economics of oil sands development and result in increased oil sands production, and the accompanying greenhouse gas emissions, over what would otherwise occur." To actually do this, however, may require a magnifying glass.
Deep in the State Dept.'s 11-volume Final Supplemental Environmental Impact Statement, there's a footnote that explores the possibility that the pipeline, under certain market conditions, would add to global supply—that the 830,000 barrels per day of tar sands oil sludging through the Keystone XL might result in, say, 500,000 more barrels being refined, shipped, and burned—leading to far less modest emission totals. The footnote's a bit technical, and refers to a working paper since completed and published here [pdf]. But the gist is that there's a reasonable, alternative scenario to the one the report emphasizes where a lot more oil gets consumed with Keystone XL than without it, resulting in 93 million metric tons of carbon pollution annually. Not what one expects Obama meant when he said he'd only go for Keystone if it "does not significantly exacerbate the problem of carbon pollution."
This sets up the possibility that after more than six years, and with tens of millions of dollars spent on lobbying and marketing, the President may well make his final call based on the fine print right there in the State report, bottom of the page, Chapter 4, Section 14, Page 36.

(Corrects the amount of annual carbon emissions predicted by a working paper to a lower total in the fifth paragraph.)