Help Wanted: Petrobras CEO With Bulletproof Integrity
Anna Edgerton and Filipe Pacheco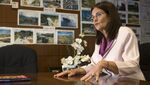 HELP WANTED: Chief executive officer to lead multinational oil company. Strong background in capital markets required. Experience with a global brand a plus. Unassailable integrity. Deep political insiders need not apply.
The resignation of Maria das Gracas Foster as Petrobras CEO is fueling a debate among investors and lawmakers over who should lead a turnaround as the state-run oil company tries to recover from Brazil's biggest-ever corruption scandal.
President Dilma Rousseff is considering options with the only real requirement being that the new CEO have the cachet within markets to bolster investor confidence, said a person familiar with the matter who asked not to be named because the talks are private. Energy Minister Eduardo Braga said Wednesday morning that the next CEO hasn't been chosen.
"The name of the new CEO can change everything, and it's very hard to tell now who that could be," Paulo Nepomuceno, the chief-economist at Coinvalores CCVM in Sao Paulo, said in a telephone interview. "It seems like the confusion is so widespread even within the government that anything can happen."
Finding the sweet spot between someone who can please both investors and the government is the tricky part, said Pedro Paulo Silveira, chief economist at brokerage TOV Corretora. Brazil's government controls Petrobras with more than half the voting shares.
A name with a strong corporate and international background "would solve the most immediate problems," Silveira said in a phone interview from Sao Paulo. "In the future, however, if the new CEO is not skilled enough to manage the demands of the government, things could worsen again."
Potential Candidates
The names of potential candidates -- some with oil industry experience, others with ties to the government and some that are pure speculation -- are being thrown around in the aftermath of today's announcement.
Former Central Bank President Henrique Meirelles and former BR Distribuidora CEO Rodolfo Landim were considered, though they aren't seen as strong candidates, said the person. O Estado de S. Paulo newspaper reported today that both Meirelles and Landim were in the running.
The lack of successful independent Brazilian oil companies limits the pool of potential candidates, said Cleveland Jones, a researcher at Rio de Janeiro State University. Of Brazil's three publicly-traded oil companies apart from Petrobras, Oleo & Gas Participacoes SA is under bankruptcy protection, HRT Participacoes em Petroleo SA carried out a failed exploration program and QGEP Participacoes SA is part of the Quieroz Galvao SA industrial group that has been linked to the corruption scandal, Jones said.
"We don't need good names from failed companies," he said in a telephone interview.
Petrobras shares rose 0.2 percent today and have rallied 22 percent this week after newspapers started reporting speculation that Gracas Foster was planning to resign.
According to Nicholas Spiro, managing director at Spiro Sovereign Strategy in London, the real question everyone is asking is: "Who on earth would want to step into Ms. Gracas Foster's shoes?"
Before it's here, it's on the Bloomberg Terminal.
LEARN MORE