U.S. Stocks Fall as ECB Tightens Rules on Greece While Oil Drops
Oliver Renick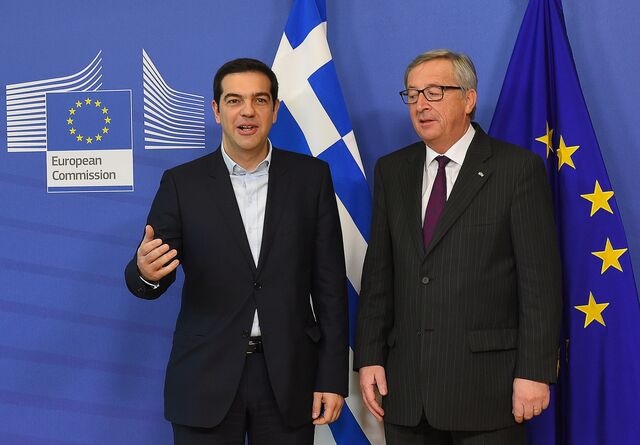 The Standard & Poor's 500 Index fell, after the biggest two-day rally in almost a month, as the European Central Bank tightened its rules on Greece's bailout and oil retreated for the first time in five days.
The S&P 500 dropped 0.4 percent to 2,041.51 at 4 p.m. in New York. The gauge fell in the final 30 minutes of trading, erasing a gain of 0.2 percent, as the ECB said it lifted a waiver on Greek government debt as collateral. The Dow Jones Industrial Average rose 6.62 points, or less than 0.1 percent, to 17,673.02, after climbing 0.7 percent amid a rally in Walt Disney Co.
"This happened sooner than expected and the market's a little shocked," said Michael Block, chief equity strategist at Rhino Trading Partners LLC in New York. "This is the ECB turning the screws, not going to let Greek banks die but the clock is ticking. People thought the ECB would do this at the end of the month and that perhaps before then, a deal could be struck. I guess not."
The ECB said it will no longer suspend its own collateral rules for Greek government debt, citing doubt over the commitment of the new government to previous reform pledges.
The decision will force Greek lenders, who since 2010 had been able to access funds from the ECB against junk-rated collateral, to apply for funding from their national central bank at less-advantageous rates. The decision comes hours after Greek Finance Minister Yanis Varoufakis met ECB President Mario Draghi in Frankfurt to gain support for his government's push to renegotiate the terms of its international bailout.
Oil Prices
"In the grand scheme of things, it won't have a major impact on the U.S. stock market, but the fact it was unexpected may cause people to take risk off the table," Joe Bell, a Cincinnati-based senior equity analyst at Schaeffer's Investment Research Inc., said in a phone interview.
Equities fell earlier in the day as weekly inventory data showed crude stockpiles at their highest levels since at least 1982, sending oil down 8.8 percent to end the biggest rally since 2009.
Transocean Ltd. paced declines among energy shares in the S&P 500. The group had jumped 6.8 percent over the previous four sessions, the most since December, amid speculation that reduced investment will curb crude production. The industry tumbled 20 percent from a June high through the end of 2014 as crude entered a bear market.
Economic Data
The S&P 500 rallied 2.8 percent in the past two days, helped by the surge in energy stocks. In January, the index posted its worst month in a year as concern mounted that slowing growth overseas will hurt the American economy, while the plunge in crude oil and stronger dollar have shown signs of eroding corporate profits.
Economic data on Wednesday was mixed. An ADP Research Institute report showed companies added 213,000 workers in January, below economists' forecast of 223,000. The data come before Friday's jobs report from the Labor Department, which economists predict will show nonfarm payrolls increased 231,000 last month, while the unemployment rate remained at 5.6 percent.
The Institute for Supply Management's non-manufacturing index expanded at a faster pace in January, a sign of progress in the biggest part of the economy that will help the U.S. work through a global slowdown.
The Chicago Board Options Exchange Volatility Index rose 5.8 percent to 18.33, following a two-day decline. The gauge, known as the VIX, jumped 26 percent last week.
Daily Moves
Volatility has increased this year. The Dow moved at least 1 percent in either direction in each of the previous six sessions, the longest such streak since October 2011. The benchmark's daily moves were all greater than 190 points in that stretch, the first time that's happened in the gauge's history.
Investors also watched corporate earnings. About 78 percent of S&P 500 companies that have posted results this season have beaten analyst estimates, while 54 percent have topped sales projections, data compiled by Bloomberg show.
Merck & Co. and Gilead Sciences Inc. led a 1.4 percent decline in health-care companies. Merck fell 3.2 percent after saying 2015 adjusted earnings and sales will be below analyst estimates.
Gilead retreated 8.2 percent after saying discounts for its blockbuster hepatitis C drugs will weigh on revenue this year. The Nasdaq Biotechnology Index fell for a fourth day, down 1.8 percent.
Disney, Whirlpool
Walt Disney rallied 7.6 percent to an all-time high after quarterly results beat analysts' estimates. Whirlpool Corp. added 6.9 percent after also topping projections.
Clorox Co. climbed 1.8 percent after raising its 2015 profit and sales outlook, joining Disney and Whirlpool in driving gains in consumer shares. General Motors Co. climbed 5.4 percent after reporting quarterly profit that beat projections and raising its dividend. GM has gained 9.8 percent this week.
Chipotle Mexican Grill Inc. lost 7 percent after posting fourth-quarter same-store sales that trailed analysts' estimates and saying that higher food costs slowed profit gains.
J.M. Smucker Co. rose 5.9 percent, the most since 2010, after agreeing to buy Big Heart Pet Brands for about $3.2 billion. Staples Inc. slipped 12 percent after agreeing to buy Office Depot Inc. for about $11 a share. The stocks jumped on Tuesday after the two retailers were said to enter merger talks.
Before it's here, it's on the Bloomberg Terminal.
LEARN MORE