The Real Problem With Thom Tillis' Stance on Hand Washing
The North Carolina senator is more worried about businesses than consumers.
By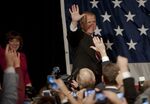 Senator Thom Tillis, a North Carolina Republican, spent Tuesday being the butt of several jokes after his comments on hand washing went public. During an appearance at the Bipartisan Policy Center on Monday, Tillis argued that restaurants should be able to opt-out of the requirement that employees wash their hands after using the restroom, as long as they let customers know.