The Courting of Romney's Financial Widows
A Romneyless field means his money-bundlers are suddenly looking quite attractive to presidential contenders.
By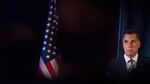 They are the Scarlett O'Haras of the fundraising world, and just about every 2016 Republican presidential hopeful wants to play the role of Rhett Butler.
Even as they mourn Mitt Romney's decision not to run, the men and women who helped him raise more than half a billion dollars during two presidential campaigns are sitting on the sidelines, cautiously and somewhat wistfully eyeing the dance floor as other would-be partners bid for their affections. Their phones ring; their inboxes fill with hopeful entreaties.
These money-bundlers, however, want a longer courtship, three of them said in interviews. "What I told everyone is that I had just spent eight years completely committed to Mitt, and now I just need to step back and think about what I'm going to do for 2016," said John Rakolta Jr., a construction company executive in Detroit. "For better or worse I was married to one person for so long, and now all of a sudden that's over." 
Rakolta is part of Romney's core finance team, a group of about a dozen well-connected business leaders that also includes Bill Hagerty, a private equity manager in Nashville, Tenn.; Tom Tellefsen, an investor in Los Angeles; and Hewlett-Packard CEO Meg Whitman. 
Many of them have personal ties to the former Massachusetts governor. Tellefsen was a Harvard classmate, Rakolta's friendship with Romney dates to the 1970s, and Hagerty was part of the Boston consultant circle that included Romney. A subset has an even longer and deeper relationship with the Bush family. One such person is Mel Sembler, a Florida developer who was an ambassador for both George W. and George H.W. Bush.
What this group does—either in unison or as individuals—will affect the Republican presidential fundraising landscape, particularly for former Florida Governor Jeb Bush, New Jersey Governor Chris Christie, and Wisconsin Governor Scott Walker, who each hope to appeal to the establishment wing of the party. Each Romney bundler  brings a list of dozens of deep-pocketed donors, which is why the presidential hopefuls pounced. 
"The different campaigns and individuals were all aware of where we stood with Romney, and once that was off the table, I think they realized they might have a short window in terms of getting us on board," Tellefsen said.
"A matter of hours" after Romney called supporters on Friday to tell them he'd decided not to pursue the Republican nomination, Hagerty was answering phone calls from senior aides for those poised to run.
Romney, their leader for so many years, is staying out of it. Over lunch Saturday in Washington, Hagerty talked with Mitt and Ann Romney about possibilities for the posse. The 2012 Republican nominee told Hagerty that he wouldn't try to steer them toward any particular candidate.
"Mitt was clear to me that we should move on and that he wants us to be helpful," he said. "I think he would be surprised if we didn't step up if there's a constructive role for us to play during the primary."
"I don't think anything is going to happen for me right away, and I think the same is true of many of us," said Hagerty, who also served as a top transition aide for Romney, vetting would-be cabinet members. "What we need to do now is spend more time engaging with the current set of candidates. Each of us have met several of them, and we'd all like to get to know them better."
Rakolta received his first campaign call around noon on Friday, he said, and the overtures continued straight through Sunday. (None of the fundraisers would say who was on the other end of the line.) Until Friday, he hadn't given much thought to other potential candidates, though he has met most of them, he said. 
"One thing that I need to think more about is why all of these candidates are calling me," he said. "Do they just want me to write a check, or do they want something more?"
Rakolta, who also raised money for George W. Bush's 2004 reelection and for Michigan Governor Rick Snyder, said he "wants to be in a position to shape, to whatever small degree," a presidential candidate's campaign.
The Romney originals may not move en masse to a single candidate, yet they are in frequent contact with one another. They value each other's opinions because of the bonds they built over eight years, Hagerty said. "We're sharing homework." 
Tellefsen said he will only get on board with a candidate who has "a clear path to winning" after Republicans failed to take out Barack Obama in 2008 and 2012. To him, that means a candidate will need name recognition, a strong campaign organization, and money. In his view, Bush, Christie and Kentucky Senator Rand Paul all seem to have that potential.
"We want to win this time," he said.