Starboard Chalks Up Another Win With Office Depot-Staples
Mohammed Hadi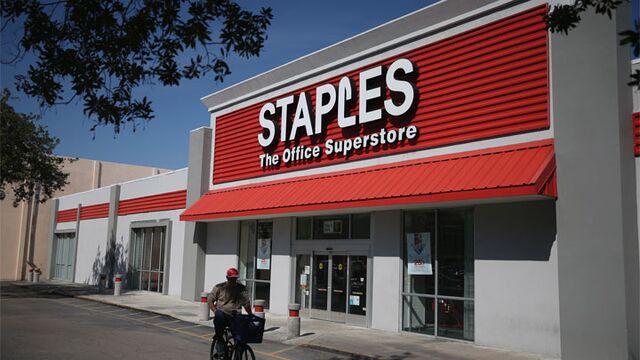 Just five weeks in, 2015 is shaping up to be a great year for Starboard Value -- the activist fund that pushed for Office Depot Inc.'s sale to Staples Inc.
The $6.3 billion deal, announced Wednesday, follows a 56-day campaign that began on Dec. 11 with the fund's disclosure of a stake in Staples. Starboard also owns shares of Office Depot as a vestige of an earlier campaign to push the Boca Raton, Florida-based company to merge with OfficeMax Inc. in 2013.
Even if Starboard Chief Executive Officer Jeffrey Smith doesn't get all the credit -- Staples Chairman Ronald Sargent said the companies first began discussing a deal in September -- Wednesday's agreement adds to a streak of victories for him this year. Last month, Yahoo! Inc. said it would spin its $35 billion stake in Alibaba Group Holding Ltd. into the hands of shareholders, after calls from Smith and others.
Another success in January was MeadWestvaco Corp.'s sale to Rock-Tenn Co. in a $9.7 billion acquisition. That took a little longer than Office Depot -- the sale came seven months after Starboard targeted MeadWestvaco.
The Office Depot sale already has produced a tidy return for Starboard. Staples's cash-and-stock offer values Office Depot at about $11 per share, based the buyer's stock price at noon in New York. That's about 64 percent higher than the day before Starboard's stake in Staples was disclosed. Starboard also boosted its Office Depot holding that day to about 10 percent including options.
Activist Power
Staples, which Starboard has a 5.1 percent stake in, has gained 15 percent since Dec. 10 in New York trading.
"I think Starboard set this thing up absolutely brilliantly," Staples co-founder Thomas Stemberg said on CNBC television. "I think you have to congratulate them.'
Founded in March 2011, Starboard usually targets small-cap companies in an activist strategy developed by Smith and Mark Mitchell since 2002 and Peter Feld since 2005 -- buying stakes in companies they call undervalued and pushing executives and directors for changes such as unit spinoffs and asset sales.
Activist investors have gained influence in recent years. Assets managed by the hedge funds jumped $26 billion last year to $119.23 billion, and have tripled over five years, data from Chicago-based Hedge Fund Research Inc. show.
A spokesman for Starboard didn't reply to requests for comment.
Before it's here, it's on the Bloomberg Terminal.
LEARN MORE