Sonos Takes a Spray Gun to Its Speaker, Jazzing It Up for Blue Note's Birthday
The company launches its first limited-edition product, marking Blue Note's 75th anniversary in a co-branding move with the label
Belinda Lanks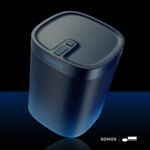 Sonos's history is in black and white. The wireless-speaker maker has built a business on sleek, minimalist devices rendered in that binary palette. But for its first limited-edition model, celebrating Blue Note's 75th anniversary, the company has gone blue. 
"We originally tried to avoid blue because it was obvious," says Tad Toulis, vice president of design. But after revisiting the legendary album covers by Reid Miles, Blue Note's art director, he decided it would be an elegant way to evoke the same visual moodiness. "At some point you have to ask yourself: Am I fighting something that's not the thing to be fighting?" says Toulis, who oversaw the device's finish, which gradually fades from dark navy to cerulean, like a James Turrell light installation. 



Achieving that effect required an elaborate assembly line of seven gravity-fed paint-spray guns rigged at precise angles to apply three different colors. "One of the interesting things we learned is that when we applied two colors, you get a band where those colors meet," causing an unpleasant greenish hue, says Toulis. Because paint can be influenced by many atmospheric factors, the units aren't identical, just as musicians' live performances aren't the same as their last. Sonos will make 4,100 units available for pre-order soon, priced at $250, or $50 more than a standard Play:1, Sonos's entry-level product. 
The Blue Note edition has some software differences as well. It adds an exclusive channel to the streaming content of the existing Blue Note station. The new channel, dubbed Artist Selects, includes songs curated by Blue Note artists such as Terence Blanchard, Robert Glasper, and José James.
The partnership with Blue Note, whose financial details Sonos declined to disclose, gives Sonos an opportunity to expand its customer base of audiophiles through niche offerings without radically changing its core portfolio of products. The company said it expects to release further limited editions, but Sonos's chief commercial officer, Patrick Spence, says the company will first see how people respond to this one.
For its part, Blue Note could use Sonos to reach a younger generation of listeners who don't yet appreciate jazz. Don Was, the label's chief executive officer, denies any grand marketing strategy. "Can I be really honest with you?" he says. "It just seemed like a cool thing to do."
Before it's here, it's on the Bloomberg Terminal.
LEARN MORE