Smucker Shareholders Salivate at Pet Food Purchase: Real M&A
Brooke Sutherland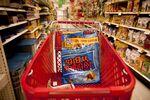 J.M. Smucker Co. shareholders don't mind the high cost of adding pet food to the company's otherwise human-oriented lineup of jams and jelly.
Smucker shares rose the most since 2010 after it announced plans late Tuesday to buy Big Heart Pet Brands and unite Meow Mix cat food and Uncrustables sandwiches in one company. The $5.8 billion price tag, including net debt, puts the deal on the expensive side as far as food acquisitions go. Recent U.S. targets in the industry have typically commanded about 9 times trailing 12-month profit, whereas Big Heart is getting about 15 times, according to data compiled by Bloomberg.
The takeover, Smucker's largest yet, gives the Orrville, Ohio-based company a new source of growth after the maker of strawberry preserves reported its biggest annual drop in revenue in at least a quarter century. That, and the fact that Smucker's had success with its purchase of Folgers Coffee Co. in 2008, is probably helping shareholders look past the rich price, said Ken Shea of Bloomberg Intelligence.
"They've convinced the investment community that they can handle these big transformational deals," Shea said in a phone interview. When Smucker bought Folgers, "a lot of investors said, 'What do you know about the coffee business?' They proved them all wrong and that was a home run for them."
Shares of Smucker climbed 5.9 percent to $112.10 at the close in New York on Wednesday.
'Left Turn'
Smucker valued the deal for Big Heart, formerly Del Monte Corp. before the sale of its fruit and vegetable business last year, at about 13 times the company's adjusted earnings before interest, taxes, depreciation and amortization for fiscal 2015.
The acquisition will boost sales at Smucker by 4 percent to 5 percent in each of the next several years, the company said. Pet food is on the rise, an exception in a packaged-food industry that's been pressured by customers' preference for fresher food, according to Shea and Michael Halen of Bloomberg Intelligence.
Smucker's pet-food purchase announcement "felt like a little bit of a left turn when you read the headline," Alexia Howard, a New York-based analyst at Sanford C. Bernstein & Co., said in a phone interview. But "people have gotten more positive on the stock because there is a growth story here."
Before it's here, it's on the Bloomberg Terminal.
LEARN MORE