The Rebel Leader Who Makes Putin Look Cautious
Stepan Kravchenko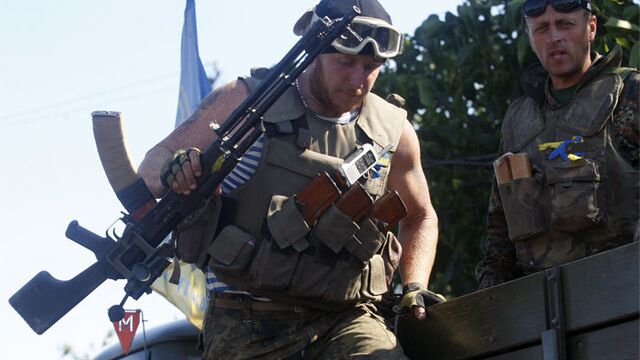 Vladimir Putin's critics say he went too far on Ukraine. The former Russian agent who helped trigger the conflict says his biggest mistake was not going far enough.
Putin has made himself a "hostage" to the war in Ukraine by opting not to annex the Donetsk and Luhansk regions after taking Crimea, according to Igor Girkin, the former rebel commander who goes by the name Strelkov, or Shooter.
If the president had sent troops into Donetsk and Luhansk to support the insurgents like he did in Crimea, all of Novorossiya, or New Russia, the term the rebels and their supporters revived to identify a swathe of southeastern Ukraine that was once part of the Russian empire, would now be reunited with the motherland, Strelkov said in an interview in Moscow.
But Putin, "not understanding that he'd already crossed the West's red line," and influenced by "top bureaucrats and oligarchs," decided to stop at Crimea, said Strelkov. "Now we have a war that will continue to grow, regardless of whether Russia wants it to or not."
Ukraine, the U.S. and its allies claim Russia is supporting militias with hardware, cash and troops, accusations the Kremlin has repeatedly denied. Russia says Ukraine is waging war against its own citizens and discriminating against Russian speakers, a majority in Donetsk and Luhansk.
Putin's spokesman, Dmitry Peskov, said it would be wrong to characterize the president as a hostage to the conflict and declined to comment on Russian support for the insurgency.
51 Militants
Strelkov, 44, is a historian and a monarchist who retired from the Federal Security Service in 2013 as a colonel, the same rank as Putin, after serving in war zones in Bosnia, Transnistria and Chechnya. He's been charged with terrorism by Ukraine's government and has been blacklisted by the U.S. and the EU for his role in the conflict.
After volunteering to help organize the Crimean referendum on joining Russia, Strelkov said he led a convoy of 51 fighters northeast from the Black Sea peninsula in early April to Slovyansk, a city in the Donetsk region, to support pro-Russian protests after the ouster of Kremlin-backed President Viktor Yanukovych. The vote and Russia's subsequent annexation of Crimea was condemned by the U.S. and the European Union as a violation of international law.
Armed with Kalashnikov assault rifles and wearing balaclavas, the men quickly seized city hall and the local police headquarters, igniting a conflict that's now claimed more than 5,300 lives, the United Nations estimates. It's also led to the worst standoff between Russia and the U.S. and its allies in Europe since the Cold War.
First Victims
Russian authorities weren't involved in the Slovyansk operation, Strelkov said. He declined to comment on claims by Ukraine and its allies that Russia later poured thousands of troops and operatives into the region.
"I think some of Russia's special services" knew of the plan, but they "didn't provide any direct support," he said at his Novorossiya movement's office, which is decorated with religious icons and portraits of Putin. He said the first people killed in the war were Ukrainian security agents who tried to halt his convoy.
Ukraine and its allies have accused the rebels of shooting down Malaysia Airlines Flight 17 with a Russian missile system on July 17, killing all 298 people on board. Strelkov, or someone using his account on Russian social network Vkontakte, boasted of downing a Ukrainian aircraft at about the same time the Boeing 777 disappeared from radar. That post was quickly deleted, though copies of it have been archived on the Internet.
'Pulled Out'
Strelkov said the rebels didn't play any role in the Malaysia Airlines incident. A few weeks after the tragedy, which is still being investigated, he stepped down as defense minister of the self-proclaimed Donetsk People's Republic and returned to Moscow, where he's been ever since.
Strelkov said he was "pulled out of the game," without elaborating. He said it became clear that it "would be destructive" for him to stay because he would never support the political settlement Russia was seeking to achieve.
A tentative truce signed in Minsk, Belarus, in September has been all but abandoned, with fighting intensifying as the insurgents seek to expand the area under their control. The escalation is "an attempt to move the frontline to a more-or-less safe distance" from cities held by the rebels, he said.
"Ukraine used the four months since Minsk to pump up the army to the maximum and solve the question by force," Strelkov said, adding that it's now "impossible" to drive Ukrainian government forces out of all of Donetsk.
'Won't Happen'
The government in Kiev says its troops are on the defensive against insurgents who have gained about 500 square kilometers (193 square miles) since the Minsk accord. The rebels last month captured the strategic Donetsk airport.
Angela Merkel and Francois Hollande head to Moscow on Friday to meet Putin in a bid to stop the conflict from spiraling out of control. The German and French leaders will stop over in Kiev to discuss a "new initiative" to resolve the 10-month crisis with Ukrainian President Petro Poroshenko, who met U.S. Secretary of State John Kerry this afternoon.
If the Kremlin has a plan for resolving the crisis, Strelkov said he hasn't seen it. "It's like that joke about the pregnant high-school girl who thinks the fetus will just dissolve," he said. "Maybe Moscow is betting on Ukraine disintegrating, but that won't happen anytime soon."
'No Glory'
The most recent peace talks, on Saturday, failed because representatives of the militants in Donetsk and Luhansk were "not even prepared to discuss" a cease-fire, according to the Organization for Security and Cooperation in Europe, which arranged the meeting with Russian and Ukrainian officials.
Strelkov, whose hobbies include reenacting czarist-era military battles, said the campaign in Ukraine has deteriorated into an embarrassing and "absurd" facsimile of the kind of trench warfare seen during World War I.
"There's no glory," he said. "Nothing but damage."
With his services no longer needed in Ukraine, Strelkov said he's helping out in other ways, such as raising money to buy humanitarian supplies for the local population. He's also working on other projects, including how to help Putin in the event an "overthrow" is attempted. Strelkov said that he would encourage a coup if he were part of the U.S. establishment.
It would make sense for the U.S. to try split Russia into "seven or 10 entities," Strelkov said. "I was trained to think like the enemy."
As for the dilemma Putin now faces in the biggest challenge of his presidency, Strelkov said it's all or nothing:
"The war we entered, whether we wanted it or not, will either bring about Russia's destruction or the resurrection of our national elite."
Before it's here, it's on the Bloomberg Terminal.
LEARN MORE