The French Are Struggling With Their Rogue Drone Problem
Helene Fouquet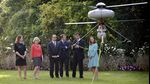 At about the same time a small drone crashed on the White House lawn last week, French authorities detected unmanned aircraft flying over nuclear submarines docked at one of the nation's most sensitive military bases in Brittany.
Just as in the U.S., drones have become a massive fad in France, where they ranked as the second "Most Trendy Christmas Tech Gift" in 2014, according to FNAC, the big French bookseller and consumer electronics chain. France also has a fledgling commercial drone industry, with hundreds of companies flying thousands of the small, unmanned aircraft around the country inspecting everything from crops to railroad tracks.
That's got French aviation authorities on edge less than a month after the Charlie Hebdo attacks in which three self-proclaimed Islamists shot and killed 17 people.
"We take the threat very seriously," General Denis Mercier, Chief of Staff of the French Air Force said at a Jan. 28 news conference addressing the Brittany incident. "It's not so much because we worry about the drones used this time, but because of the rising threat."
DGAC, the French equivalent of the U.S. Federal Aviation Administration, recently gathered experts together for the first-ever meeting of its Drones Council to hammer out a defense system for errant or malicious drones. And the Secretariat for Defense and National Security has requested bids to provide radar and scrambler systems to "detect and even neutralize" drones. The bidding ended yesterday.
Commercial Drones
Over 1,200 commercial drone companies operate in France. By comparison in the U.S., where the government is still struggling to draft rules for commercial drone use, the FAA has granted 24 approvals for companies, with more than 300 applications pending, according to agency data.
"We don't really have any kind of regulatory structure at all for it," said President Barack Obama on Jan. 27 after the drone fell onto the White House grounds.
In 2012, France began to regulate safe use of drones, allowing commercial unmanned craft to fly around the country while keeping them out of the way of airplanes and people on the ground. Still it's juggling to stay on top of the fast-changing technology.
Two regulations to control recreational drones were passed in April 2012. Their use isn't allowed above populated areas, the pilot must always have the drone within sight and the craft isn't permitted to fly at altitudes of more than 150 meters, or just under 500 feet. Similar rules exist in the U.S., though, as in France, they are virtually impossible to enforce.
Intelligence Gathering
The potential for havoc is real. Recreational small drones, like those sold on Amazon.com Inc. and at FNAC, are the French government's immediate concern because of their rapid growth and their ability to be used for intelligence gathering. There may be as many as 200,000 in use in France today, according to the Civilian Drones Federation, and sales exploded last year.
Small drones were spotted in Syria last year in the hands of the ISIS militia group, Colin Clarke, an associate political scientist at Rand Corp., reported to National Defense magazine. Other armed groups such as Hamas and Hezbollah have been using them, he said. They're capable of moving 15 meters per second, and can map a zone with their cameras for surveillance or spying.
Last year in France, authorities faced a series of illegal small drone flights above atomic power plants and the military port of Toulon on the Mediterranean Sea. Last month one was spotted above the Elysee presidential palace in Paris.
Security Systems
The Secretariat, which oversees the country's security systems including cybersecurity, put 1 million euros ($1.1 million) on the table to get a system that will keep drones far from atomic plants, President Francois Hollande's office and even landmarks like the Eiffel Tower.
While it would be too costly to create a radar system to detect drones across the country, the French government is studying where and how to install scramblers and low altitude radars.
Some "Vital Service Operators" -- a classified list of about 200 companies key to run France's transport, energy or health care -- may be among those that will use the systems the Secretariat wants up and running within 18 months.
For now, French skies are vulnerable to small drones because French military radar systems aren't adapted to detect those flying at low altitudes, General Mercier said.
On dronestagram.com, an image-sharing website of footage gathered by amateur drone operators, a user called "toniorapido" posted a 9-minute video of a fly-over the business district of La Defense last July.
Video Fly-Over
In the video, a drone flies nearby the headquarters of nuclear energy operator Areva SA, oil giant Total SA, and the country's nuclear power plants operator Electricite de France SA. The drone also flew under the Arche de la Defense, a landmark of the country and above the nearby mall. La Defense has been a no-fly zone since the Sept. 11, 2001 attacks.
"We must keep calm. Most drones are harmless," said Francis Durufle, vice president the Civilian Drones Federation. "But we have to be vigilant. It's like cars had appeared overnight and you had to understand the scope of changes and dangers instantly, from privacy to spying or attacks or one falling on your head."
The Defense Ministry declined to give details on the sort of drones spotted above its nuclear submarine base in Brittany. Authorities said they didn't capture the crafts.
The Elysee palace also declined to give more details about the drone spotted above its courtyard.
"We take this very seriously," Gaspard Gantzer, a spokesman for Hollande, told Bloomberg News. "But we have to take it with sang froid."
Before it's here, it's on the Bloomberg Terminal.
LEARN MORE