Rajan Says U.S. Must Accept Strong Dollar as Fed Normalizes
Sandrine Rastello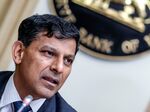 India's central bank chief said the U.S. will have to accept a stronger exchange rate as the Federal Reserve turns toward raising interest rates for the first time since 2006.
"The Fed will have to start at some point normalizing interest rates," Raghuram Rajan, 52, said in an interview with Bloomberg TV India's Harsha Subramaniam at the Reserve Bank of India headquarters in Mumbai. "Unless the Fed starts doing it, others aren't going to follow suit. And the Fed, when it does that, will have to accept some appreciation of the dollar simply because it's the first one out of the box."
Rajan also warned Indian firms against borrowing in dollars, likening it to "Russian roulette."
The remarks Wednesday were among the most explicit yet among Group of 20 policy makers laying out expectations for the U.S. to resign itself to a stronger dollar. Appreciation in the currency, spurred by the U.S. economy outperforming most of its industrialized counterparts, already has damaged earnings at American companies including DuPont Co. and Procter & Gamble Co.
Speaking days before G-20 finance chiefs meet in Istanbul Monday and Tuesday, Rajan said that there has been "noise" about exports not being as strong because of a stronger dollar. The Fed's policy-setting Open Market Committee in its Jan. 28 statement said "international developments" would contribute to deciding how long to keep the benchmark rate near zero.
Strong Dollar
Jack Lew, who is in charge of currency policy as U.S. Treasury secretary, has refrained from expressing concern at the competitiveness hit from a stronger dollar. He said last month in Davos, Switzerland: "I'm going to repeat what I and all my predecessors have always said, which is a strong dollar is good for America."
The Fed's trade-weighted broad dollar index climbed 13 percent in the six months through January, and ended the month less than 1 percent from its high reached during the global financial crisis, in 2009.
American policy makers need not overly worry about the strengthening currency, Rob Carnell, chief international economist at ING Groep NV, wrote in a report Wednesday.
"The net effect of the stronger dollar, together with lower oil prices, is still likely a very positive one," he said. It "should not prevent the Fed from hiking rates later this year."
Rajan is among at least ten central bankers who have cut rates this year as plunging oil prices lead to slowing inflation. China Wednesday was the latest G-20 nation to ease monetary policy, furthering the appeal of the dollar.
Beggar Thy Neighbor
Three weeks after his unscheduled move, Rajan on Tuesday left the benchmark rate unchanged in a signal that he wants to see Prime Minister Narendra Modi's full-year budget before easing further.
The former International Monetary Fund chief economist reiterated his criticism of unorthodox monetary expansion implemented by some developed-nation counterparts. Recent exchange rate depreciations have not translated into greater domestic activity, he said.
"If you're not increasing domestic activity but depreciating your exchange rate you're essentially drawing demand from the rest of the world," he said. "It's a beggar-thy-neighbor strategy."
Russian Roulette
Already in the first 35 days of 2015, Australia, Canada, Russia, India, Peru, Pakistan, Turkey and Egypt all cut interest rates, while the European Central Bank produced a bigger-than-expected asset-purchase program.
Rajan also urged Indian companies to take precautions when borrowing in dollars, saying the central bank focuses on fighting volatility, not on keeping the rupee at a certain level.
"They may find they are at the wrong end of the level given the global risks around, so they should hedge," he said. "Borrowing in dollars is like playing Russian roulette, especially if you're borrowing relatively short term."
The rupee has surged about 12 percent from an all-time low in August 2013, when Morgan Stanley dubbed the currencies of India, South Africa, Brazil, Indonesia and Turkey as the "fragile five" because of their difficulties in drawing capital to finance deficits.
Rajan said one of his concerns is that "in this environment of search for yield as everybody is trying to go to extremely accommodative monetary policies, we get investors who haven't thought enough about the kinds of investment they're making because they know they have very easy exit," Rajan said. "I would like to see investors moving to the long rate."
'This Worries Us'
Indian 10-year bonds yield 598 basis points more than similar-maturity U.S. debt. Tightening by the Fed risks damping this return for overseas investors, who bought a record $26 billion of the notes last year.
"What leads to crises is a big liquidity call when your creditor comes and says give me my money now," said Bhanu Baweja, London-based head of emerging-markets cross-asset strategy at UBS Group AG. "That typically happens when you have short-term maturities."
Rajan on Wednesday said foreign investors can now only buy Indian corporate bonds maturing in at least three years. They'd sold $8 billion of rupee-denominated debt in 2013 when the Fed had first signaled it would start reducing its bond purchases, forcing Rajan to offer banks dollar swaps at discounted rates to help bridge the current-account deficit.
"We have a lot of money sitting at the very short end," Rajan said, referring to investors who hold debt that will mature soon. "This worries us."
Before it's here, it's on the Bloomberg Terminal.
LEARN MORE