Only the Best Junk Will Do for Picky Bond Buyers: Credit Markets
Cordell Eddings, Laura J. Keller and Elliott Stam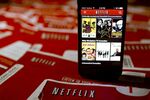 Junk-bond investors are becoming increasingly picky, bolstering demand for companies with the highest speculative-grade ratings while all but shutting out the riskiest borrowers.
Netflix Inc., which has the fourth-highest high-yield credit grades, boosted a bond offering on Monday by 50 percent to $1.5 billion as investors snapped up the subscription-streaming service's largest debt sale ever. Buyers shunned a $400 million offering backing Apollo Global Management LLC's buyout of technology firm Presidio Holdings Inc. with ratings in the bottom third of junk.
Investor caution is splitting a market where just six months ago borrowers could practically name their terms to satisfy demand for high-yielding assets. The yield premium that investors demand to own the lowest-rated junk bonds instead of top-tier ones has widened to levels not seen since 2012 as a slump in oil prices prompted concern that the economic outlook is worsening.
"For a long time, due primarily to central bank policy, buyers flocked into the high-yield market," Steven Hornstein, the chief investment officer of New York-based money manager Global Credit Advisers LLC, which manages about $740 million, wrote in an e-mail. Now "the investor base is far more discriminating, and I think that will continue for the foreseeable future."
Nervous 'Investors'
Money managers are being discriminate as the 47 percent rout in the price of oil since June prompted losses of 7.4 percent on energy junk bonds last year, according to Bank of America Merill Lynch Index data.
High-yield issuance is off to its slowest start to a year since 2010, with $23.3 billion in bonds issued since December, according to data compiled by Bloomberg. Sales reached a record $357.1 billion in 2014.
"Investors are more nervous, and there are no easy answers anymore," Joe Mayo, the head of credit research at Conning, a global insurance investment manager with about $92 billion under management, said in a telephone interview. "Every deal is more highly scrutinized and volatility has left issuers and investors out of sync with each other."
High-yield, high-risk, or junk bonds are rated below Baa3 by Moody's Investors Service and lower than BBB- at Standard & Poor's.
Scrapped Bonds
New York-based Presidio's bonds are rated Caa1 by Moody's and CCC+ by S&P. The technology firm scrapped a plan to offer $400 million of senior unsecured notes on Jan. 26 and instead sold $250 million of senior notes and another $150 million piece of subordinated debt.
Apollo, run by billionaire Leon Black, agreed to buy "all or a portion" of the junior notes, according to a document used to market the deal that was obtained by Bloomberg News. Presidio also offered buyers higher yields and better protections known as covenants on the debt.
Charles Zehren, a spokesman for Apollo at Rubenstein Associates Inc., declined to comment on the deal. Presidio Chief Marketing Officer Mike French didn't immediately respond to requests for comment.
'Waiting Anxiously'
Higher yields are bringing some investors back into the market. Exchange-traded funds that invest in junk bonds received inflows of $1.34 billion this week, Bloomberg data show. About $2.8 billion flowed into U.S. high-yield funds last week, the most since September 2013, according to data provider Lipper.
"There are a lot of buyers waiting anxiously for oil prices to stabilize to jump in," said Sam Diedrich, a money manager at Pacific Alternative Asset Management Co., which oversees more than $9 billion.
Netflix will use proceeds of its bond sale for general corporate purposes that may include content acquisitions, the company said yesterday in a statement. The deal adds to its $900 million of existing borrowings, Bloomberg data show.
S&P lowered the company's credit rating to B+ on Feb. 2, four levels below investment grade, matching the cut carried out by Moody's Investors Service on Jan. 22.
Yields on speculative-grade debt rose to as high as 7.45 percent on Dec. 16., from an all-time low of 5.7 percent in June, Bank of America Merrill Lynch data show.
The 6.68 percent difference on Jan. 30 between yields on bonds graded in the BB tier and all debt rated C is the most since June 2012, according to Bank of America Merill Index data.
Moody's is projecting that the default rate on speculative-grade corporate bonds in the U.S. will rise to 2.8 percent this year from 1.9 percent last quarter, which is below the 4.4 percent average since 1993.
"People are jarred and scarred by what has happened to energy prices, but you can't be 'Chicken Little' here -- the sky isn't falling," Sabur Moini, a money manager in Los Angeles at Payden & Rygel, which oversees about $85 billion in fixed-income assets, said in a telephone interview. "Issuance will pick up, and there is value if you do your homework."
Junk Replaces Government Debt as Most-Disdained in Investor Poll Junk Bonds Show Pulse as Cash Dribbles Back in: Credit Markets Finding Losers From Oil Leads JPMorgan to Texas: Credit Markets
Before it's here, it's on the Bloomberg Terminal.
LEARN MORE