Longtime Sberbank Champion Says Sell as Crisis Escalates
Elena Popina and Halia Pavliva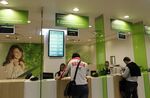 After more than five years of advising clients to buy OAO Sberbank, Renaissance Capital is turning bearish on Russia's biggest lender, saying a spiraling economic crisis will cut margins and increase risks.
American depositary receipts of Sberbank, which plunged 68 percent last year, dropped 2.7 percent to $3.85 in London on Feb. 4 as their 50-day historical volatility, a measure of price swings, hovered at a record. VTB Group, the second-largest lender, extended its 2015 drop to 14 percent. The Bloomberg index of the most-traded Russian stocks in the U.S. fell 2.9 percent as oil prices sank the most in two months.
Renaissance Capital analysts including David Nangle cut their recommendation on Sberbank to sell on Feb. 3 and almost halved its 12-month price estimate, predicting a "brutal" 2015 as a plunging ruble, a shrinking economy and high borrowing costs will lead to more bad loans and lower margins. The number of buy recommendations on the state-controlled bank, which holds about 46 percent of Russia's deposits and a third of the nation's lending, have dropped to a five-year low, data compiled by Bloomberg show.
"It's very hard for me to value a Sberbank recovery story when all I can see in the next 12 to 18 months is macro and banking sector stress," Nangle, head of research at Renaissance in Moscow, said by phone on Feb. 4. "If I had visibility that the situation was going to improve in Russia and that there would be a clear recovery trend for Sberbank, I would have happily said: buy Sberbank."
Cash Withdrawals
Net interest margin at Sberbank will shrink to 5 percent this year compared with 6.1 percent in 2013, Renaissance predicted, while bad loans will rise to 7.5 percent of total advances, from 2.9 percent in 2013. The lender is restricted from doing business with the U.S. and the European Union under sanctions linked to the Ukraine crisis.
Russia, the world's largest energy exporter, faces its first economic contraction in six years as oil prices near 2009 lows exacerbate the impact of international penalties over the country's alleged role in the war in eastern Ukraine. Vladimir Putin denies Russia's involvement. The ruble's 50 percent plunge since June has prompted lenders including Sberbank and SB Bank to impose restrictions on cash withdrawals as Russians move to preserve their savings.
Renaissance's sell rating remains a rarity among 26 analysts covering the stock, 17 of whom recommend buying. Six have a hold and just three give it a sell. Sberbank closed at 61.04 rubles in Moscow on Feb. 4, leaving it room to jump 43 percent to an average analyst price estimate of 87.48 rubles, data compiled by Bloomberg show.
'Bad Bank'
With Russian banks' aggregate net income sinking 41 percent in 2014, the government last week said it's considering creating a "bad bank" to isolate souring loans. Lawmakers last year passed legislation approving a 1 trillion-ruble ($15 billion) boost to the Deposit Insurance Agency's funds and allowing it to buy stakes in banks before they face bankruptcy proceedings. Sberbank may be called upon the government to help resolve the sector's crisis, further increasing risks for investors, Nangle said in his report.
The Bloomberg Russia-US Equity Index slid to 51.20. Brent for March settlement slipped 6.5 percent in London as signs of a glut grew. The Market Vectors Russia ETF, the largest U.S. exchange-traded fund tracking the nation's companies, fell 4.7 percent to $15.02 and futures on the dollar-denominated RTS Index slipped 1 percent to 74,900 in U.S. hours. United Co. Rusal, a Moscow-based aluminum producer, rose 0.6 percent in Hong Kong trading.
"I'm not going to lose my fingers trying to catch a falling knife," Rudolph-Riad Younes, co-founder and portfolio manager at R Squared Capital Management LP in New York, said by phone on Feb. 4. He last owned Sberbank in 2012. "It's a great bank in a huge economy, it's extremely cheap compared with emerging markets peers, but there is no reason to buy these days."
Before it's here, it's on the Bloomberg Terminal.
LEARN MORE