Jeb Bush to Make Iowa Debut in March: Report
He is set to speak at the Iowa Agriculture Summit, according to the Des Moines Register.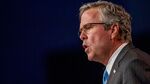 From the Des Moines Register:
Amid copious speculation about whether the center-right Republican would avoid Iowa and its anti-establishment-leaning GOP caucusgoers, Bush intends to speak at the Iowa Agriculture Summit in Des Moines on March 7.

The former Florida governor will join Wisconsin Gov. Scott Walker, former Texas Gov. Rick Perry, former Arkansas Gov. Mike Huckabee and New York businessman Donald Trump, GOP insiders and the contenders' aides told The Des Moines Register. The new event will be hosted by Bruce Rastetter, an influential mainstream Republican who earned his wealth in Iowa agribusiness.

Bush is the only major Republican considering a 2016 presidential bid who has yet to step foot this election cycle in Iowa, one of four states that lead the vetting of White House aspirants.