Illinois Governor Follows Walker's Lead, Pushes to Curb Unions
Elizabeth Campbell and Tim Jones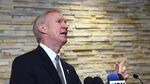 Illinois Governor Bruce Rauner called for curbing the influence of unions, saying his agenda would empower taxpayers to control the cost of government.
Following the lead of Wisconsin Governor Scott Walker, who restricted collective bargaining for most public-employee unions, Rauner, the first Republican elected to lead Illinois in 16 years, said union contracts make the state economy less competitive and contribute to rising property taxes.
"It's now or never for Illinois," Rauner, 58, told the Democrat-led legislature in Springfield. "It's time to act."
Rauner, in his first State of the State address, didn't provide specifics about how he would pull Illinois back from a budgetary precipice, with a shortfall of almost $2 billion looming in the current fiscal year.
Rauner proposed what he called "employee empowerment zones" that would allow local voters to decide whether workers should be required to join a union. That would boost economic activity and generate revenue, which "will give taxpayers and local governments the tools they need to freeze property taxes," Rauner said.
Senate President John Cullerton, a Democrat from Chicago, called Rauner's speech "divisive."
"Unfortunately, too much of the governor's opportunity was squandered with campaign rhetoric that denigrates the reputation of the state," Cullerton said in a statement. "The people of this state elected a divided government, but the governor will soon learn that it doesn't mean that he needs to be divisive."
Pressing Matters
House of Representatives Speaker Michael Madigan, the Chicago Democrat who controls much of the legislative agenda, said he wants to focus on the immediate financial crisis through negotiations on reducing spending and increasing revenue.
"Given his success in business, clearly he's learned about compromise," Madigan told reporters. "You don't enjoy the success that he's enjoyed without understanding compromise. That applies in government."
Rauner also said he wants to extend a ban on political giving by businesses with state contracts to unions and organizations funded by entities that receive Medicaid funds.
Labor Battleground
Several neighboring states have weakened union influence. Walker's collective bargaining restrictions went into effect in 2011. Indiana did away with mandatory union membership in 2012, and Michigan followed suit late that same year. All are led by Republican governors.
Rauner's proposal drew immediate criticism from lawmakers and unions. As the governor spoke, some legislators wore yellow stickers that read "I support Illinois unions."
"Our current state budget is unsustainable," said Dan Montgomery, president of the Illinois Federation of Teachers. "But attacking the middle class with regressive, trickle-down policies that have failed miserably in other states is not the way to grow our economy."
Rauner, who took office Jan. 12, inherited a state with $6.5 billion in unpaid bills that will run out of money before the end of June as temporary income-tax increases expire. The former venture capitalist will also have to address $111 billion in unfunded pension liabilities.
Deficit Waiting
Illinois faces a projected deficit of about $9 billion for the year starting July 1, according to a report last month by the University of Illinois.
The governor will release plans for dealing with the fiscal strains in two weeks, when he's scheduled to present his budget, according to the General Assembly's calendar.
Revenue shortfalls have left the fifth-most-populous state with the lowest credit rating among its peers. Investors demand about 1.3 percentage points of extra yield to own 10-year Illinois bonds instead of benchmark municipal debt, data compiled by Bloomberg show. That's the highest among the 20 states tracked by Bloomberg.