Greek Bill-Sale Demand Slumps as Nation Seeks New Debt Deal
Eshe Nelson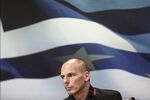 Demand for Greece's Treasury bills slumped to a more-than eight-year low at a sale Wednesday as the government struggled to strike a new bailout deal and avert a funding shortage.
The nation sold 812.5 million euros ($929 million) of six-month bills, with an average yield of 2.75 percent, the Athens-based Public Debt Management Agency said. The bid-to-cover ratio, which gauges demand by comparing total bids with the amount of securities allotted, fell to 1.3, the least since July 2006. Greece has 947 million euros of debt coming due on Feb. 6.
Prime Minister Alexis Tsipras risks a liquidity crunch if he fails to cut a new deal on repaying a rescue package pledged in 2012. Failure to reach an agreement by March, when the bailout program ends, may leave the country unable to repay billions of euros in debt. Finance Minister Yanis Varoufakis met European Central Bank officials Wednesday as he presses his case with creditors, which also include the European Commission and International Monetary Fund.
"There is uncertainty surrounding the Greek cash position," said Felix Herrmann, an analyst at DZ Bank AG in Frankfurt. "Greek banks, the main buyer of T-bills, are more reluctant when it comes to buying. There is a lot of uncertainty whether Greek banks will be able to get enough liquidity from March onwards and this is mirrored in T-bill prices and yields."
Bank Losses
Greek lenders lost at least 11 billion euros in deposits in January, according to four bankers who asked not to be identified because the data were preliminary. Withdrawals accelerated from about 4 billion euros in December in the run-up to elections that catapulted anti-austerity party Syriza to power. The ECB allows Greece's banks to use as much as 3.5 billion euros in Greek bills as collateral in its financing operations. This is available only while the nation complies with its bailout program.
Banks led gains as Greek stocks rose for a third day in Athens, with the ASE index climbing 0.9 percent.
The previous sale of six-month bills on Jan. 7 drew an average yield of 2.30 percent. The average auction rate dropped to record-low 0.59 percent in October 2009 before climbing to 4.96 percent in June 2011, according to data compiled by Bloomberg. That compares with a rate of 7.83 percent set at an auction in February 2000, the highest on record in data starting that month.
Bonds Drop
Greek 10-year bonds snapped a two-day gain Wednesday as Varoufakis met ECB President Mario Draghi.
"I presented him our government's utter and unwavering determination that it can't possibly be business as usual in Greece," he said after the meeting in Frankfurt. "Both in terms of the reforms that we need in order to end the various malignancies that have afflicted the Greek economy and society for so many years, and also in terms of the program that has been leading to, or fueling, a debt deflationary crisis in our nation."
Varoufakis is scheduled to meet his German counterpart Wolfgang Schaeuble in Berlin on Thursday.
German Chancellor Angela Merkel said she expects talks with Greece to drag on until after the current round of bailout funding runs out at the end of the month and is prepared to play a waiting game until April or May, when the country approaches a cash crunch, a person familiar with the matter said.
Bailout Review
Greek 10-year yields rose 16 basis points, or 0.16 percentage point, to 9.68 percent at 5 p.m. London time. The 2 percent bond due in February 2025 fell 0.75, or 7.50 euros per 1,000-euro face amount, to 60.96.
Greece owes about 15 billion euros in short-term bills, which the country continuously rolls over. This covers financing needs while its bailout review remains stalled and aid disbursements from the euro area and the IMF are frozen. Even during the region's sovereign-debt crisis, when Greece carried out the biggest-ever bond restructuring, the nation never canceled a bill auction and continued to roll over the securities.
Daniele Nouy, head of the ECB's Supervisory Board, said the central bank has told Greek lenders they need to be cautious in their liquidity management.
Liquid Assets
"They should not take measures that could endanger their liquidity positions, the management of their liquidity situation," Nouy said on Jan. 28 in Frankfurt. "They have to invest their Treasury liquidity in highly liquid assets, in assets that can be accepted as collateral. That's a basic recommendation from a supervisor in such circumstances."
Greece's three-year notes rallied on Tuesday, rising for the first time in seven days, after Varoufakis outlined plans to swap some debt for new securities. They dropped on Wednesday, pushing the yield up four basis points to 16.33 percent.
Varoufakis indicated that the move would allow Greece to avoid imposing a formal reduction in the amount owed to creditors, according to a person who attended the meeting and asked not to be identified because they weren't authorized to speak publicly.
Greek bonds have returned less than all but two of their euro-area sovereign peers this year through Tuesday, according to Bloomberg World Bond Indexes. They earned 1.4 percent, while Germany's gained 2.1 percent, the indexes show. Only Luxembourg's and Ireland's returned less.
Before it's here, it's on the Bloomberg Terminal.
LEARN MORE