Goldman Sachs Hawks CDOs Tainted by Credit Crisis Under New Name
Lisa Abramowicz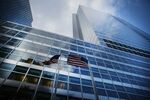 The 2008 financial crisis gave a few credit products a bad reputation.
Like collateralized debt obligations, known as CDOs. Or credit-default swaps. But now, a marriage of the two terms (using leverage, of course) is making a comeback -- it's just being called something else.
Goldman Sachs Group Inc. is joining other banks in peddling something they're referring to as a "bespoke tranche opportunity." That's essentially a CDO backed by single-name credit-default swaps, customized based on investors' wishes. The pools of derivatives are cut into varying slices of risk that are sold to investors such as hedge funds.
The derivatives are similar to a product that became popular during the last credit boom and exacerbated losses when markets seized up. Demand for this sort of exotica is returning now and there's no real surprise why. Everyone is searching for yield after more than six years of near-zero interest rates from the Federal Reserve, not to mention stimulus efforts by central banks in Japan and Europe.
The transactions offer the potential for higher returns than buying a typical corporate bond, especially if an investor focuses on first-loss slices or uses borrowed money, or both. Obviously, the downside may be much greater, too.
Michael DuVally, a spokesman for Goldman Sachs in New York, declined to comment.
Credit Savvy
The deals are "attractive for credit-savvy investors in the post-QE credit picker's market," according to a January U.S. credit derivatives outlook by Citigroup Inc., referring to central-bank bond buying known as quantitative easing, or QE.
As much as $20 billion of such transactions were issued last year, up from less than $5 billion in 2013, according to data compiled by BNP Paribas SA. The Paris-based bank has also been arranging the deals -- dubbed collateralized swap obligations by some, bespoke tranches by others -- and predicts issuance will go up in 2015.
It's clear why banks want to get involved with pulling together these transactions given they offer higher profit margins than plain-vanilla bonds like Treasuries or corporates. Also, underwriters are taking on less risk than the pre-crisis CDOs, since they typically offload almost all the risk to investors on either side of the swaps.
Bespoke Portfolio
As for investors? Well, just because yields around the world are the lowest they've ever been doesn't mean hedge funds will accept measly returns. Yields on corporate debt globally have plunged to 3.3 percent from as high as 9.05 percent at the 2008 peak, according to Bank of America Merrill Lynch index data.
"A tranche of a bespoke portfolio of credits can offer exposure to diversified risk with the possibility of leverage, credit enhancement and enhanced returns," according to a Jan. 23 e-mail message from a Goldman Sachs employee, reviewed by Bloomberg News. It went out with the header: "Goldman: BESPOKE TRANCHE OPPORTUNITY."
In this environment, the words "enhanced returns" are sure to get investors' attention.