Ford Hiring Move Brings 48% Raise for Hundreds of Workers
Keith Naughton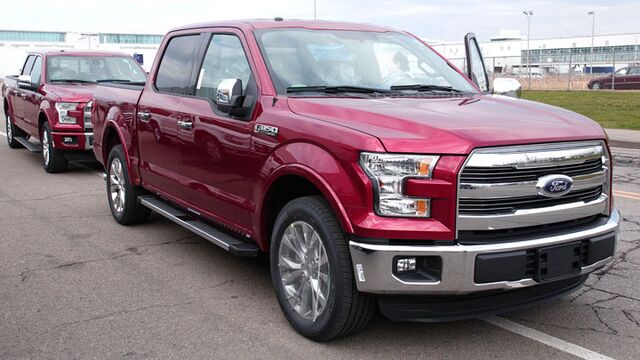 Ford Motor Co., adding jobs before labor contract talks later this year, said it must give raises to as many as 500 U.S. hourly employees because new hiring is pushing the company past its limit on lower-wage workers.
The automaker said Wednesday that it's adding 1,550 workers to help build the new aluminum-bodied F-150 pickup in Missouri and Michigan. Ford's current contract with the United Auto Workers lets it pay new hires an "entry-level" wage of $15.78 to $19.28 an hour, compared with the $28.50 veteran workers get.
With the latest hires, Ford exceeds its promised limit for entry-level workers of about 28 percent of its U.S. labor force. So the company said it will boost the pay of 300 to 500 of its most senior workers in that category to the veteran rate. Ford's total hourly additions now total more than 15,000 since 2011, exceeding a pledge of 12,000 by 2015.
"Thanks to stronger-than-expected customer demand, we're adding 1,550 new workers to support additional F-150 production," Joe Hinrichs, the Dearborn, Michigan-based company's president of the Americas, said in a statement. "We sell every truck we can build, and we plan to build more."
Ford said Tuesday that F-Series sales in the U.S. rose 17 percent last month, the pickup's best January since 2004, the vehicle's best year. As Ford converted two plants last year to build the new truck, F-Series sales fell 1.3 percent to 753,851, while it remained the nation's top-selling vehicle for the 33rd straight year. The new version cuts as much as 700 pounds (318 kilograms) to improve fuel economy, mostly by using aluminum instead of steel in its body.
'Strong Product'
"The UAW-Ford 2011 negotiations reaffirmed with Ford the process in which members move to the traditional wage levels," union President Dennis Williams said Wednesday in a statement. "Through the hard work of Ford and UAW members in creating a strong product line, new hires at Ford have triggered that portion of our contract."
An hourly raise of at least $9.22, or 48 percent, for 500 workers would cost Ford about $9.6 million in wages in a year, based on a 40-hour week. Ford may have to extend the increases to more workers if it has to expand hiring to meet demand for the F-150 or other models, said Bill Dirksen, vice president of labor affairs.
"The entry-level agreement has been a really important part of making our labor costs more competitive," he said in an interview. "It's what's enabled us to invest in our plants and do all this hiring."
Dirksen declined to say how much Ford's labor costs will rise as it moves entry-level workers to the veteran wage.
"In total, this action is good for our business," he said. "We're hiring more people to make more trucks because the market likes our truck."
Two-Tier System
Workers have chafed under the two-tier wage system the UAW first agreed to in 2007 with Ford, General Motors Co. and Chrysler Group LLC, the Fiat Chrysler Automobiles NV unit now known as FCA US. The system has workers in their factories doing the same jobs for vastly different pay rates.
The union agreed to forgo the limit on new hires at GM and Chrysler as they emerged from their 2009 bankruptcies. Ford, the second-largest U.S. automaker, behind GM, didn't file Chapter 11 and didn't get that break.
The Ford raises are "very exciting news, and these additional jobs will have an impact in communities all across our nation," said UAW Vice President Jimmy Settles, who heads its Ford department. "This also represents a major milestone for employees hired under the entry-level agreement, as many will now begin to convert to 'new traditional' wage status, as negotiated in the 2011 collective bargaining agreement."
Key Issue
Wages will be a focus of negotiations later this year when Ford sits down with the union to bargain a new four-year agreement. The current contract expires Sept. 15. Veteran workers haven't gotten an hourly pay increase in more than a decade and entry-level employees are eager to achieve wage parity with their senior colleagues.
"We all know this will be an important topic for both Ford and the UAW," Dirksen said of two-tier wages. "Our goal is going to be to come out of it with a competitive agreement."
In recent contracts, workers have accepted bonuses and one-time payments rather than hourly raises. Ford said last week that its U.S. hourly workers will get 2014 profit-sharing checks that average about $6,900, down from the record $8,800 for 2013.
The UAW also is trying to reverse a slide in membership that has seen its rolls decline to 391,415 in 2013 from a peak of 1.5 million in 1979.
More Jobs
Ford said last week it employed 90,000 workers in North America at the end of last year, an increase from 84,000 at the end of 2013 and 75,000 at the end of 2011, when it reached the last four-year agreement with the UAW.
The latest hires include 900 jobs at its F-150 assembly plant near Kansas City, Missouri. An additional 500 will go into factories in Dearborn, while 150 workers will be added at an axle plant in Sterling Heights, Michigan, the company said. Ford said hourly employment at its U.S. manufacturing facilities rose by more than 5,000 jobs last year.
Ford last week posted pretax profit of $6.3 billion for 2014, down from $8.6 billion the year before, as the automaker spent heavily to introduce 24 new models, including the new F-150, its most profitable product. In North America, Ford earned $6.9 billion before taxes, a drop from $8.8 billion in 2013.
Before it's here, it's on the Bloomberg Terminal.
LEARN MORE