Fifty Shades of Grey  Tickets Are Selling Fastest in the South
Fandango says presale tickets in Mississippi are selling almost four times the state average
by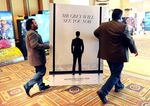 Fifty Shades of Grey is a racy film about a 21-year-old college student who gets—ahem—adventurous in the bedroom with a sultry billionaire who claims he's only using her for her body. Based on the phenomenally popular book series, the film opens on Valentine's Day, and online ticket seller Fandango has already named it the fastest-selling R-rated movie in the company's 15-year history.  The state where presales are fastest compared with the state average? Mississippi.
Fandango tickets to the softcore, bondage-light film are selling nearly four times faster than average presales in Mississippi, followed by Arkansas, where presales were 2.8 times the state average. West Virginia, Kentucky, and Alabama rounded out the top five fastest states. Readers from those states also gave the books disproportionately high ratings on the website Goodreads.com when they first came out in the U.S. in 2012. According to Fandango, showtimes for Fifty Shades have already sold out in such cities as Chattanooga, Tenn., Florence, Ky, and Tupelo, Miss.. 
"If you had told me two months ago that Fifty Shades would be selling like this, I'd be very surprised," says Dave Karger, Fandango's chief correspondent. "The fact that its books were a rare phenomenon combined with the sexy nature of the movie—well, it's causing a lot of anticipation."
Karger says that releasing the movie on Valentine's Day may seem counterintuitive at first—"It's not a Nicholas Sparks movie, that's for sure"—but it turns out the film has broader appeal than expected. "It's a date movie," says Karger. "It also appeals to the girls-night-out crowd. Single people will see it. And of course, that weekend has a huge moviegoing audience in general." 
The Hollywood Reporter has the film on track to make more than $45 million on opening weekend, or about $10 million more than Sparks's film Safe Haven made over Valentine's Day weekend in 2013. Fandango hasn't yet broken down ticket sales by gender, but the cinema analytics company Movio says more than three-quarters of the tickets are being bought by women, most of them under 40 years old.
"I think it's perfect for Valentine's Day. Women already want to see this movie, and then the guy is like, well, I might as well suck it up and get it over with on Valentine's Day," says Kate Corley, 26, who lives in Dallas and repurchased tickets for herself and her somewhat less enthusiastic boyfriend to see on Feb. 13.
"I'm going with my boyfriend's mom and sister-in-law," says Champagne Girten, 35, who lives in Miami and says she hasn't read the books. She plans to pre purchase tickets this weekend. "We're going to one of those theaters that serves food while you watch. Luckily, they also serve alcohol."
Twitter is awash with similar admissions:
Of course, given the nature of the film, there will be plenty of fans who won't want to see it in public and will wait to stream it at home. Universal Pictures did not respond to an interview request and hasn't yet said when the movie will be available for download or streaming.
"I'm not embarrassed to say I read the books or even that I liked them, but there's something about watching that in a theater surrounded by people. I'd be mortified," says Melissa Capezio, 33, in Brooklyn. She admits that she was also one of those people who surreptitiously read all three books on her Kindle because she didn't want anyone to see her reading them. "I know the movie isn't going to be as graphic as the books were—and they're just soft porn, anyway—but I know I'd have my face covered the whole time, blushing." Instead, she'll wait until she can stream it on her Xbox at home—on a night when her husband isn't around to make fun of her. 
Before it's here, it's on the Bloomberg Terminal.
LEARN MORE