S&P 500 Futures Rise Amid Pfizer Deal as Greek Bonds Fall
Jeremy Herron and Stephen Kirkland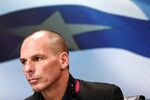 U.S. stocks rose, with benchmark indexes erasing losses for the year, as Pfizer Inc. announced a $17 billion deal and energy producers climbed with crude. Treasuries fell, while the euro strengthened as investors assessed negotiations on Greece's bailout.
The Standard & Poor's 500 Index added 1 percent, capping a recovery from a 3.1 percent slide in January. The yield on 10-year Treasuries advanced six basis points to 1.81 percent. Greek 10-year yields were little changed at 9.69 percent after erasing an earlier surge. The euro strengthened 1.4 percent to 134.88 yen. West Texas Intermediate crude rose 4.2 percent to settle at $50.48 a barrel. Natural gas futures slid to a 31-month low in New York.
Applications for U.S. unemployment benefits hovered around levels that are typically associated with an improving job market, data showed a day before the government releases its monthly labor report. Pfizer agreed to buy Hospira Inc., the biggest provider of injectable drugs and infusion technology. The first direct talks between Greece and Germany since a new anti-bailout government took power in Athens last week yielded no agreement on how to narrow their differences.
"Right now it's earnings, Greece and M&A," Krishna Memani, the New York-based chief investment officer at Oppenheimer Funds Inc., said by phone. "It's more about the corporate outlook in the U.S. remaining good and the realization that while the Greek issue is important, it will eventually be resolved."
U.S. Movers
A Goldman Sachs Group Inc. gauge of the most-shorted stocks in the Russell 3000 Index jumped 2.3 percent today, bringing its rally since the end of January to 5.8 percent. The S&P 500 has advanced 3 percent in that period. Denbury Resources Inc. and Oneok Inc. jumped more than 3.8 percent as oil surged. Pfizer added 2.9 percent, the most since April, while Hospira jumped 35 percent.
WTI gained more than 7 percent Thursday before paring the advance. It plunged 8.7 percent Wednesday, the most since November. The Chicago Board Options Exchange Crude Oil Volatility Index, which measures price fluctuations using options of the U.S. Oil Fund, ended Wednesday at the highest since April 2009.
"Volatility is here to stay," Rob Haworth, a senior investment strategist in Seattle at U.S. Bank Wealth Management, which oversees about $120 billion of assets, said by phone. "We don't have headlines pushing us to new lows or highs now. The market may be trying to put in a floor but I think there's a little more downside risk."
Oil's wide swings have rippled through equity markets. The CBOE Volatility Index fell 7.2 percent to 17.02 after rising 5.8 percent Wednesday. The gauge, known as the VIX, is down 19 percent this week after jumping 26 percent last week. Energy producers in the S&P 500 have moved at least 1.4 percent in either direction each day this week.
Fed Watch
The increase in equities volatility comes amid signs that the plunge in crude prices and a stronger dollar are eroding corporate profits, while investors speculate on the timing of a rate increase by the Federal Reserve.
The Fed is scrutinizing data to determine whether slowing growth in overseas economies is hurting the U.S. A jobs report Friday from the Labor Department is predicted to show nonfarm payrolls rose by 230,000 last month, while the unemployment rate remained at 5.6 percent.
U.S. data today showed record imports and a slowdown in shipments to overseas customers pushed the trade deficit to a two-year high in December. A separate report indicated the productivity of U.S. workers dropped in the fourth quarter as employers boosted hours by the most in 16 years.
Market Catch-Up
"The U.S. market lagged Europe at the beginning of the year, but in the last days there has been a catch-up driven by good figures," said Philippe Gijsels, chief strategy officer at BNP Paribas Fortis in Brussels. "Earnings have been favorable, and the market is now probably anticipating good numbers for tomorrow's non-farm payrolls."
The S&P 500 fell 0.4 percent Wednesday, following the biggest two-day rally in almost a month. The benchmark gauge in January posted its worst month in a year amid concern that slowing growth overseas will hurt the U.S. economy.
The drop contrasted with a 7.2 percent surge in the Stoxx Europe 600. That was the best start to a year since 1989, as the ECB expanded its stimulus plan to combat deflation.
The European gauge lost 0.2 percent today, as investors weighed negotiations between Greece and European leaders. German Finance Minister Wolfgang Schaeuble said Thursday he and his Greek counterpart, Yanis Varoufakis, "agreed to disagree" at a meeting in Berlin.
Greek Debt
The ECB said on Wednesday it will no longer accept junk-rated collateral from Greece, citing doubt over the new government's commitment to previous reform pledges. The decision will force the country's lenders to seek more-expensive emergency funding from their own central bank.
"It's really a continuation of posturing on both sides, while the move in and of itself doesn't really get us any closer to a catastrophic problem," Memani said. "It continues to retain pressure on Greeks to have a bit more open attitude and the ECB's intent is to keep this from dragging on. It behooves them to try and resolve this uncertainty relatively quickly."
The euro strengthened, recovering most of Wednesday's loss, as Greece reassured investors that its banks will retain funding access. The shared currency rebounded after dropping 1.2 percent Wednesday. The euro climbed 0.7 percent to 1.058 francs and touched 1.0644, the strongest level since Jan. 15.
European Equities
Greece's ASE Index slid 3.4 percent. Optimism that Greece's new government will soften its anti-austerity stance had sent the Stoxx 600 higher earlier this week, with the ASE posting its biggest three-day rally since 1991.
The Stoxx 600 closed 0.1 percent higher for a fourth day of gains as crude's rally overcame a slide among banks in the index. Oil and gas producers jumped 1.6 percent as a group, while lenders slid 0.5 percent.
National Bank of Greece SA and Piraeus Bank SA plunging more than 12 percent. UBS Group AG slipped 1.2 percent after people familiar with the matter said the U.S. is investigating whether the bank helped Americans evade taxes. BNP Paribas SA lost 3.7 percent as France's largest bank said new rules and higher taxes will weigh on earnings.
Deal activity increased. BT Group Plc added 4.5 percent after agreeing to buy EE Ltd. for 12.5 billion pounds ($19 billion) from owners Orange SA and Deutsche Telekom AG.
The yield on Greece's three-year note surged 45 basis points to 16.78 percent. They reached 20.05 percent on Feb. 3, the highest since Greece restructured its debts in 2012.
Bonds, Ukraine
Treasuries declined for the third time in four days as traders shifted focus from the sparring between Greece's anti-austerity government and European leaders to the strengthening U.S. employment market.
The MSCI Emerging Markets Index advanced 0.2 percent for a fourth day of gains. Russia's Micex climbed 2.4 percent and the ruble jumped 2.5 percent as energy producers gained with oil.
Ukraine's currency fell while bonds advanced after National Bank of Ukraine loosened its reins on the currency to bolster its hand in winning a bailout from the International Monetary Fund. The yield on July 2017 traded at a four-day high of 52.937 cents on the dollar. The hryvnia weakened 32 percent to a record 24.5 per dollar
German Chancellor Angela Merkel and French President Francois Hollande said they'll travel Thursday to Kiev, where Secretary of State John Kerry is meeting officials, before making their way to Moscow the next day for talks with President Vladimir Putin.
The Bloomberg Commodity Index rallied 0.9 percent for its fourth advance in five days as oil gained.
Natural gas futures fell 2.3 percent, to settle at $2.60 per million British thermal units, as a government report showed that U.S. stockpiles dropped by less than forecast last week.
Before it's here, it's on the Bloomberg Terminal.
LEARN MORE