markets
ECB Shuts Off Direct Funds to Greece
Jeff Black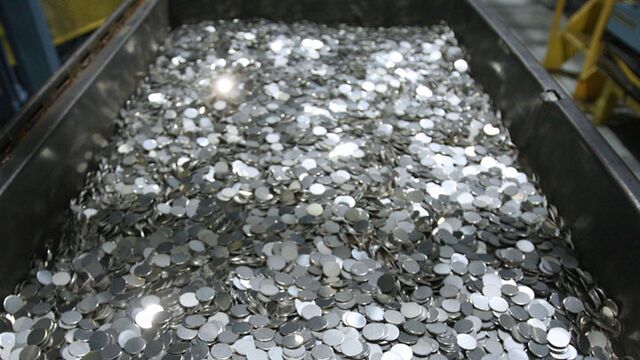 The European Central Bank heaped pressure on Greece's new government by restricting access to its direct liquidity lines, citing concerns about the country's commitment to existing bailout pledges.
The decision marks an escalating standoff between Greek politicians and other officials in the euro area. It came hours after new Greek Finance Minister Yanis Varoufakis met ECB President Mario Draghi to garner support for his government's plans to tear up its 240 billion-euro ($272 billion) rescue package and renegotiate the nation's debt.
"The ECB today decided to lift the waiver affecting marketable debt instruments issued or fully guaranteed by the Hellenic Republic," the Frankfurt-based central bank said in an e-mailed statement on Wednesday. "The Governing Council decision is based on the fact that it is currently not possible to assume a successful conclusion of the program review and is in line with existing Eurosystem rules."
Greek lenders, who since 2010 had been able to access funds from the ECB against junk-rated collateral, must now apply for funding from their national central bank at higher rates. While a similar shut-off occurred briefly in 2012, the government and its creditors are this time at odds on how to proceed and the current move risks precipitating a Greek exit from the euro.
The single currency fell after the statement and traded at $1.1339, down 1.2 percent, at 10:59 p.m. Frankfurt time.
Greek government debt currently pledged as collateral under ECB refinancing operations will no longer be eligible as of Feb. 11 when the current operation matures, the ECB said.
Early Move
A Bank of Greece spokesman said that liquidity will continue as normal, as existing ECB financing will be converted into Emergency Liquidity Assistance. The official asked not to be named in line with policy and declined to answer all other questions. A spokesman for the Greek government didn't respond to two phone calls seeking comment.
The ECB hadn't publicly signaled that it would take such action so soon. On Jan. 8, the central bank said it would continue the waiver on the assumption that Greece would conclude a review of its current bailout program, and negotiate a successor to it. The existing aid program is scheduled to expire on Feb. 28.
"The ECB's move is coming a couple of weeks before we anticipated," Marc Chandler, global head of currency strategies in New York at Brown Brothers Harriman & Co., said in an e-mail. "I imagine Greek bonds and stocks will get hit hard on Thursday."
'No Surprises'
Even so, ECB Vice President Vitor Constancio said on Saturday that if a nation has ratings below investment grade, "then a waiver is granted provided that the country is under a program" and that "there will be no surprises if we find out that a country is below that rating and there's no longer a program that that waiver disappears."
"This decision does not bear consequences for the counterparty status of Greek financial institutions in monetary policy operations," the ECB said in its statement. "Liquidity needs of Eurosystem counterparties, for counterparties that do not have sufficient alternative collateral, can be satisfied by the relevant national central bank, by means of Emergency Liquidity Assistance."
ELA is priced at an annual interest rate of 1.55 percent compared with the current ECB refinancing rate of 0.05 percent, Bank of Greece Governor Yannis Stournaras said in an interview with Kathimerini newspaper in November.
Harder Stance
The ECB also has the power to refuse permission for the Greek central bank to supply funds under ELA, and reviews the procedure every two weeks.
As Greece's creditors line up to oppose the country's demand for a debt restructuring, Prime Minister Alexis Tsipras's refusal to accept more bailout loans may result in a cash crunch as early as next month, two people familiar with the country's financial position said.
The ECB's move may be the harbinger of a harder stance by Greece's European creditors. In order for the government to pay its bills beyond next month, it needs the so-called troika of ECB, European Commission and the International Monetary Fund to agree to lift a 15 billion-euro ceiling on the amount of short-term debt it can issue.
Before it's here, it's on the Bloomberg Terminal.
LEARN MORE