Commerzbank Says 'Time Is Right' to Sell Frankfurt Tower
Dalia Fahmy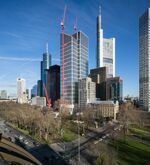 Commerz Real AG, the fund management arm of Germany's second-biggest bank, may put Frankfurt's newly completed TaunusTurm skyscraper on the market this year for more than 500 million euros ($570 million).
Commerz Real is in talks with the co-owner of the 40-story tower, Tishman Speyer Properties LP, to decide whether to proceed with a sale, said Andreas Muschter, chief executive officer of Commerz Real. A fair price for the property would be between 500 million euros and 600 million euros, he said.
"It's a good time to sell buildings in Frankfurt right now, so I wouldn't rule out that we'll do something with the TaunusTurm in 2015," Muschter said on the sidelines of a conference in Berlin. "We need to reach a decision with Tishman first, but we agree that the timing is right."
TaunusTurm, located in Frankfurt's banking district, was completed in 2014 amid a construction boom driven by investor demand for German office properties. Investors bought 5.3 billion euros of commercial properties in Frankfurt in 2014, the most in seven years and 37 percent more than a year earlier, according to data compiled by BNP Paribas Real Estate.
While tenants in the property include JPMorgan Chase & Co. and UniCredit SpA, about 60 percent of the 60,000 square-meter (650,000 square-foot) space remains empty. The owners are exploring whether to reduce the vacancy rate before putting the property on the market, Muschter said. Brokers have not yet been mandated to the sale.
Commerz Real, a unit of Commerzbank AG, and Tishman each own 50 percent of the TaunusTurm.
No one at Tishman Speyer was available to comment.
Before it's here, it's on the Bloomberg Terminal.
LEARN MORE