Broken Market Leaves Buenos Aires Slum Dwellers Stuck
Charlie Devereux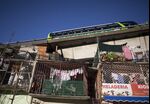 Pilar Guevara and her daughter share a 19 square-meter (190 square feet) apartment with exposed brick walls, concrete floors, a bunk bed and a gas stove. They flush the toilet by dumping in a bucket of water.
For $50 more a month, they could live in the upscale Recoleta area, just a half-mile away. Or in a space that's 50 percent bigger in the opulent Retiro neighborhood.
Welcome to Buenos Aires's broken housing market.
More than a century of economic crises and a byzantine judicial system meant to protect tenants have put legal rentals out of reach for most and kept almost a quarter of housing units vacant. The result: It costs almost as much for a hovel as for decent space.
"It speaks to the dysfunctionality," said Bret Rosen, managing director of research at Jamestown Latin America, a real-estate investor based in New York. "But it also speaks to greater trends throughout the whole economy and applies to so many levels of distrust you see" in Argentina.
All the defects meet in the slum known as Villa 31, which the Guevaras call home.
About 26,000 people live in the 0.2 square-mile area, according to official figures. Other estimates put the number at 40,000. The entire place exists in a legal gray zone that gives tenants no leverage over abusive landlords.
It's walking distance to the port and city center and on the highway from the northern suburbs. Yet it's in limbo, undeveloped as commercial space or decent housing, said Carlos Pisoni, director of the masters program in Habitat and Urban Poverty in Latin America at the University of Buenos Aires.
'Embarrassment'
Villa 31's inhabitants "took a piece of land and entrenched themselves there by building a city, which for some is an embarrassment to see, but it's reality," Pisoni said. "It's an ideological position: If you've got a family that's lived there for 40 years why should they have to go?"
The slum is a monument to do-it-yourself construction: cinder block and brick edifices are camouflaged by tangles of wires and metal bars across every window while iron spiral staircases are often the only way to access the third or fourth floors. It has become a self-sufficient entity where neighbors set up kiosks selling vegetables, drinks and cleaning products, a hair salon and even doctors' offices.
Guevara, 50, pays 2,000 pesos ($234) a month. An apartment the same size as hers in Recoleta, whose Belle Epoque architecture has attracted high-end shops and embassies, is available for the same price plus monthly fees of 450 pesos; a 28 square-meter unit with security guards in Retiro near the Sheraton and Four Seasons hotels is similarly priced.
Stuck in Slum
She and her 20-year-old daughter are stuck because landlords typically demand four months rent as a deposit as well as a guarantee from a third party. Such requirements stem from a decade ago when evictions took an average of 440 days, according to data compiled by Cambridge, Massachusetts-based National Bureau of Economic Research. The nonprofit economic-research organization worked with law firms in 109 countries to compare legal processes for nonpayment of rent.
While a 2002 law cut the Argentine process to months, the old ways remain, said Jose Rozados, director of real-estate research company Reporte Inmobiliario.
"I don't know anyone who could give me a guarantee," said Guevara, who hasn't worked for three years because of arthritis and anemia. She relies on the 2,500 pesos a month her daughter Andrea earns as a nanny. "We have just enough to pay for the room, so we go to soup kitchens to eat."
Downtown Workers
Her neighbors work mainly in downtown hotels and restaurants or as construction workers and maids, said Pisoni. While they don't own title to their homes, long-term residents have rights that protect them from eviction, making them de facto owners -- and increasingly, landlords -- he said.
Limiting their options further is a construction boom powered by Argentines with means seeking refuge in property from soaring inflation of about 38 percent. Home prices in the city of 3 million have almost tripled to $1,693 per square meter in 2014 from $600 in 2002, according to Reporte Inmobiliario.
Yet 24 percent of the city's dwellings are unoccupied, the 2010 census showed. The 341,000 empty units could easily house the 194,000 people living in shanties, said Raul Fernandez Wagner, a professor in urban planning at the National University of General Sarmiento.
The state should encourage owners to make empty properties available for rent, said Fernandez Wagner. In the U.K., for example, officials have given local councils the power to levy taxes of up to 150 percent over standard charges for properties that have been empty or unfurnished for two or more years.
Credit Crunch
A lack of credit also is pushing potential buyers into renting, Rozados said. The number of owned properties in Buenos Aires fell 10 percent to 621,480 between 2001 and 2010, according to government data. Rentals rose 39 percent in the same period to 315,383.
"We've seen a rentification of the middle class due to a lack of mechanisms to leverage home buying," he said.
That's making things even tougher for Paula Alvarado, a 29-year-old single mother of four who has fallen behind on the 3,000-peso-a-month rent for her two-bedroom apartment in Villa 31. Unable to work full-time as a caregiver for elderly people because she can't find anyone to look after her children, most months she earns only about half of what she needs.
"I've been thinking of going onto the street," Alvarado said. "I don't think I've got any other option because elsewhere they ask for a guarantee."
Before it's here, it's on the Bloomberg Terminal.
LEARN MORE