Mideast Unites to Damn 'Barbaric' Death of Jordanian Pilot
Donna Abu-Nasr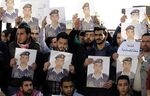 The burning alive of a Jordanian pilot by Islamic State militants is reverberating around the Middle East, a region that has suffered decades of brutal wars.
Condemnation of the murder of Moath al-Kasassbeh united regional foes Saudi Arabia and Iran. Al-Azhar, the Sunni Muslim world's leading religious institution, called for the "killing or crucifixion" of Islamic State terrorists. Officials rejected the immolation of a foreign hostage by the group as "barbaric" and "satanic," and warned similar acts may be to come.
"They wanted to raise the level of ugliness," Abdulmanam Almushawah, head of a Saudi government program called Assakeena, which works to combat militant Islamic websites. "If they didn't bring something new, people won't pay attention to them. We expect more ugliness in the future."
The airman is the latest captive whose killing was choreographed and documented by Islamic State, which says it is punishing countries that joined the U.S.-led military campaign to crush its self-declared caliphate in Iraq and Syria. The group said it killed two Japanese hostages as punishment for Prime Minister Shinzo Abe's offer of $200 million in non-military aid to help combat the extremists.
Al-Kasassbeh, 27, was seized by Islamic State in December when his plane crashed in Syria during a bombing run against the group. The Jordanian government said he was killed on Jan. 3, without elaborating on how it got the information.
Not Islamic
His death was captured in a video distributed on Twitter. The immolation was a break from Islamic State's signature beheading of its foreign captives. Almushawah said torture, including burning to death, is prohibited by Islam.
"Islam has banned the burning of trees, ants, insects, let alone burning human beings, even if they were enemies," Almushawah said by telephone from Riyadh. "The actions of this group have nothing to do with Islam."
Sultan al-Hashimi, associate dean of sharia studies at Qatar University, said Islamic State has "perfected the industry of death but not life."
"They are ignorant about the jurisprudence of jihad, how to treat prisoners and the prohibition of disfiguring corpses," al-Hashimi told Qatar's Al-Sharq newspaper. "They think that Islam is about murder and decapitation. They have tarnished the image of Islam in the East and West."
Syrian Capital
The extremists have killed thousands since setting up their de-facto capital in the Syrian city of Raqqah in 2013 and declaring the caliphate the following year. They shot, beheaded, crucified, stoned and threw victims from tall buildings.
What sets the pilot apart is the theatrical way the group has sought to exhibit the killing, said H.A. Hellyer, non-resident fellow at the Center for Middle East Policy at the Brookings Institution in Washington.
Islamic State held a viewing in Raqqah of the pilot's video and recorded the joy, according to Maryland-based analysis firm SITE Intel Group, which monitors posts by militant groups.
In Iran, the Foreign Ministry said the pilot's killing was "inhumane and un-Islamic." Saudi Arabia called it a "heinous crime," adding the "barbaric cowardly act" is not sanctioned by the principles of the tolerant Islam set in the Koran.
Oman's Foreign Ministry called it a criminal act that "reflects a deep-rooted hatred and organized terrorism against all Muslims and contradicts religious law."
'Satanic Group'
U.A.E. Foreign Minister Sheikh Abdullah Bin Zayed Al Nahyan called it a defining moment that reaffirms the "sound" U.A.E. position and the international coalition on strongly tackling all forms and manifestations of extremism.
Clerics also condemned the act. The Grand Imam of Sunni group Al-Azhar, Ahmed Al-Tayeb in Egypt, described Islamic State as a "satanic terrorist group" that needs to be eradicated.
Ghanem Nuseibeh, founder of Cornerstone Global Associates, which advises clients on risk in the Middle East, said Al-Azhar would have been better to call for the militants' ex-communication as a way to target the group's ideology so it could lose potential supporters rather than advocate violence.
"They're basically saying, yes the methodology is correct, but the aims are different," Nuseibeh said from London. "That is beyond shocking."
Further west in Morocco, Mohamed Abdelwahab Rafiki, a prominent cleric who was jailed in 2003 when he was found guilty of inspiring suicide attacks in Casablanca, wrote on his official Facebook page that Islam needs a period of renewal.
Change is needed "so that we preach this religion and present it to the world in the rightful image it came in, that of mercy for the worlds not burning, maiming and disfiguring," according to Rafiki.
Mona Haim, 27, a Moroccan who works at a call center near parliament in Rabat, said she watched the video of the pilot's death: "It's yet again a massive insult to Islam."
Before it's here, it's on the Bloomberg Terminal.
LEARN MORE