Apollo Makes 600% Profit on a Single Oil Bet
Isaac Arnsdorf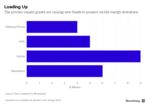 Just as rival buyout titans Henry Kravis and David Rubenstein were starting to get burned by falling oil prices, Leon Black hit a gusher.
His Apollo Global Management LLC managed a 600 percent profit on the September sale of a Texas oil company as prices had begun their steepest slide since 2008.
The $7.1 billion sale of Apollo-backed Athlon Energy Inc. to Calgary-based Encana Corp. signaled the end of an era in the same way Sam Zell's sale of 540 office buildings to Blackstone Group LP in 2007, just before the property market took a nosedive, and the merger of AOL Inc. and Time Warner Inc. in 2000, weeks ahead of the dot-com bust, marked theirs.
The outlook for oil prices indicates it'll be a while before there's another deal like this one. The U.S. price was $94.57 a barrel on Sept. 29, the day Athlon announced the sale. Today it's a little more than half that. Encana paid $58.50 a share for Athlon. Calculating Athlon's value with oil at $90 a barrel, Goldman Sachs Group Inc. analysts came up with, at most, a value at the time of $50.99 a share. If Athlon shares were still trading today, they'd probably be down 50 percent, said Gabriele Sorbara, an analyst at Topeka Capital Markets in New York.
The goal of the acquisition was to give Encana a stake in the oilfields of the Permian Basin of West Texas and New Mexico, "one of North America's top oil plays," Encana said in a Jan. 8 statement. The Permian is the top-producing U.S. oil region and Athlon, based in Fort Worth, had about 140,000 acres there.
'Wasn't Luck'
Apollo had invested $200 million in 2010 to help create Athlon, and subsequently put in another $165 million to bolster the driller. Counting the $1.1 billion it took home after Athlon's 2013 initial public share offering and subsequent share sales, plus the $1.48 billion Apollo gained from the deal with Encana, the New York buyout shop's four-year return, according to regulatory filings, was more than 600 percent.
"When you spot a time to sell, you do it," said Peter Henning, a corporate law professor at Wayne State University in Detroit. "This wasn't luck, but they are lucky."
Even with the Athlon windfall, Apollo will join Rubenstein's Carlyle Group LP and Kravis's KKR & Co. in suffering energy-related losses in the last three months of 2014 when it reports earnings on Feb. 5, according to analysts' estimates. But don't cry for them. The oil rout is giving the firms plenty of chances to snap up assets at fire-sale prices, and they've already raised more than $15 billion to do just that. Still, only Apollo was able to make a killing as the bear market got rolling.
Charles Zehren, a spokesman for Apollo with Rubenstein Associates Inc., declined to comment.
Shareholders Sue
After the deal was announced, some Athlon shareholders sued Athlon, Encana and Apollo executives. They said the sale was negotiated among a small group of executives, without competing bidders. They said they could've gotten a better price had talks been less secretive. By then, however, oil had fallen to $80 a barrel from more than $100. So the shareholder group decided that for all the complaints they had, they couldn't do better, and on Nov. 3 they settled. Athlon, Encana and Apollo denied any wrongdoing.
"With oil prices crashing, the risk became what this company was going to be like if there was no deal," said Randy Baron, a San-Diego-based attorney at Robbins Geller Rudman & Dowd LLP who represented the Athlon shareholders. "Otherwise we would have taken the case a lot further."
Encana, descended from a 19th-century railroad, owned mostly gas-producing properties when the market collapsed in 2008 and never recovered. It hired Doug Suttles, a third-generation Texas oilman, to transform it into an oil company. Suttles, a former BP Plc engineer who appeared on the "Today" show to represent the oil giant during the 2010 Deepwater Horizon spill, set about trading Encana's disappointing gas assets for some of the most promising oil plays.
Wyoming Land
Last spring, Encana sold some land in Wyoming, advised by the New York-based investment bank Evercore Partners Inc. Encana also started negotiating the sale of some gas properties in Alberta, Canada. This time, Evercore advised the buyer: a company controlled by Apollo.
Shaun Finnie, head of Evercore's oil and gas acquisitions and divestitures advisory with 20 years' experience as a banker and lawyer, had an idea, according to a regulatory filing. Apollo could buy Encana's gas assets and Encana could buy Apollo's oil company.
Encana was eager to get into the Permian Basin, according to regulatory filings. That was where Suttles's grandfather had worked some 80 years before.
Opening Bid
Bob Reeves, an accountant and former energy executive, started Athlon in 2010 with four employees and the $200 million commitment from Apollo. Even with the grub stake, Reeves, who became chairman and chief executive officer, was living paycheck to paycheck, he said at an industry conference last year. Any mishap on a well pad could mean running out of cash.
As early as April, Reeves told Evercore's Finnie he would be open to considering a takeover by Encana, according to regulatory filings.
In August, Suttles made an opening bid of $52 a share and insisted that they negotiate in private; if Athlon ran any kind of public sale process, Encana wouldn't participate, according to filings. Encana declined to comment on the negotiations.
Athlon's board decided not to form a special committee to negotiate because there were no conflicts of interest, according to regulatory filings. Reeves later hired Evercore as an adviser, documents show.
Reeves and Suttles eventually agreed on a price of $58.50 a share, and on Sept. 29 the companies announced that their boards had unanimously approved the deal. Encana's sale of the Alberta gas assets to the Apollo-controlled company closed the next day. Athlon's Reeves was paid $375 million.
Permian Leases
Finnie's role in the negotiations was revealed only after the shareholder settlement called for additional disclosures. An external spokesman for Evercore said the firm declined to comment.
Encana now has to spend millions to drill the wells required to hold onto its Permian leases, according to John Herrlin, an analyst at Societe Generale SA in New York. Those wells are probably unprofitable at current prices, he said.
Encana has fallen 34 percent since the Athlon announcement.
The Canadian company is still better off now than if it hadn't bought Athlon because of the quality of the properties, according to David Meats, an analyst at Morningstar Inc. Encana plans to invest as much as $950 million in the Permian this year, the company said in a Jan. 8 statement.
"The recent commodity price environment hasn't dampened our excitement about acquiring a position in the Permian," Encana said in the statement.
Energy Losses
Despite its profit on Athlon, Apollo is forecast by analysts to report a 64 percent drop in earnings in the fourth quarter from a year earlier.
Washington-based Carlyle earnings will fall 72 percent, analysts said, while KKR, based in New York, is expected to see a 59 percent decline in profit.
Since the Athlon sale, Reeves has been approached by investors eager to back his next venture, according to regulatory filings. He's scheduled to speak at an industry luncheon this month in Houston where he's being named "Dealmaker of the Year."
Before it's here, it's on the Bloomberg Terminal.
LEARN MORE