Wall St. Echo Chamber Yelling 'Dollar, Dollar, Dollar'
Michael P. Regan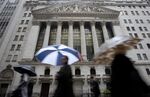 "Wall Street is an echo chamber," Deutsche Bank chief U.S. equity strategist David Bianco told clients, "and sometimes it can give you a headache."
No argument here (here... here... here...). But if you don't agree, consider these snippets from various research reports over the past few days in the wake of a string of earnings reports that blamed a strong dollar for disappointing results and forecasts. Just be sure to pop an Advil first.
Wells Fargo: "The strong dollar has dominated headlines through the first few weeks of earnings season, and speculation about the durability of U.S. economic and earnings growth in the face of presumed dollar strength is running rampant."
Goldman Sachs: "The impact of currency is all investors want to talk about."
Deutsche Bank citing a request: "Please send a list of S&P 500 firms with no FX exposure, no Banks or Energy."
Sorting out the impact to U.S. corporate earnings from the stronger dollar can be tough, especially with other tectonic shifts like the price of oil in the mix.
Revenue, Earnings
Goldman Sachs made the case that top-line revenue is more at risk than earnings, since hedges and expenses paid overseas in other currencies limit damage to the bottom line. This may help explain why halfway through the reporting season, revenue is down 0.4 percent for S&P 500 companies while earnings are up 3.5 percent, according to data compiled by Bloomberg.
Comments from corporate management imply the stronger dollar will cut future sales growth by 3 to 5 percentage points at S&P 500 companies, which get about a third of sales overseas, Goldman strategists wrote in a Jan. 30 note. That's not to say there will be no damage to profits. Earnings guidance for the first quarter is coming in below Wall Street's estimates at an "astounding" rate of 87 percent of companies, which Goldman Sachs said is the highest level in 34 quarters worth of data.
Analysts are busy dissecting the S&P 500 into companies more or less affected by dollar strength due to how much revenue they book overseas.
And despite that client request to keep banks off the list, Bianco points out that financial companies are the dominant domestic cyclical stocks. They are most sensitive to U.S. gross domestic product and relatively insulated from foreign economies, he wrote, with banks in the unusual position of standing to benefit from potential interest rate increases.
Bianco Picks
Outside of financials, the most domestically sensitive stocks include retailers, homebuilders, airlines and trucking firms, according to Bianco. His list of picks include a mix of cyclical and defensive stocks: Lowe's Cos., Macy's Inc., Dollar General Corp., Ross Stores Inc., Nordstrom Inc., Tractor Supply Co., Southwest Airlines Co., Exelon Corp., Edison International, Public Service Enterprise Group Inc., CMS Energy Corp., Verizon Communications Inc. and AT&T Inc.
Of course, the market has already picked potential winners and losers. Wells Fargo strategist Gina Martin Adams's math shows that share prices have fallen faster than earnings estimates for companies most dependent on foreign sales. Meanwhile, she wrote, share prices have risen at companies more reliant on domestic revenue even though they also saw cuts in earnings estimates, resulting in a widening valuation premium for domestically focused companies.
Yet, Martin Adams argued, changes in international economic growth have had an even larger impact on revenue than the dollar. As a result, she wrote, "the outlook may not be as dire as the headlines may lead you to believe." The bar has been set too low for Organisation for Economic Cooperation and Development economies outside the U.S., she said, and surprisingly strong growth for those nations may overwhelm the effects of dollar strength and allow S&P 500 earnings to beat estimates.
Anyone have a headache yet?
Before it's here, it's on the Bloomberg Terminal.
LEARN MORE