UPS Reworks Peak Plan With More Charges, Fewer Drivers
Mary Schlangenstein and Michael Sasso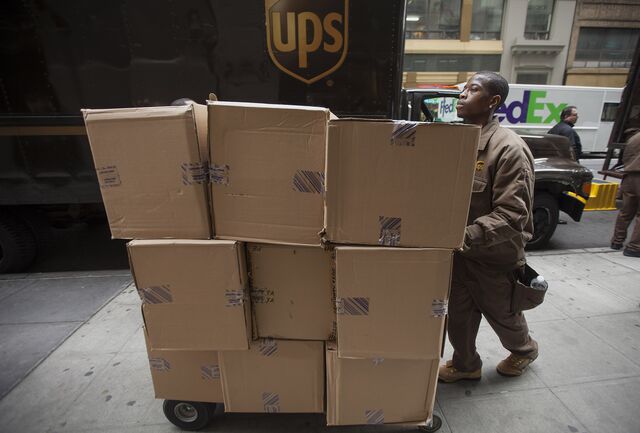 United Parcel Service Inc. is revamping its Christmas-delivery plans again, after being swamped by packages in 2013 and overspending on preparations in 2014.
With this year's profit growth falling short of long-term forecasts, Atlanta-based UPS said Tuesday it will start charging some customers more for peak-day shipping and won't hire as many seasonal workers.
The world's largest package shipping company has been struggling with uneven e-commerce orders during the busiest time of year. After missing more than 1 million package deliveries in 2013, UPS spent $675 million last year and hired 100,000 part-time workers to better prepare. Volume turned out to be lopsided, with the busiest day seeing deliveries 100 times greater than normal while workers sat idle on others.
"It is a balancing act of trying to milk every dollar out of a couple of days a year, and creating a sustainable operation year round," Chief Financial Officer Kurt Kuehn said on a conference call with analysts.
UPS rose 0.4 percent to $100.57 in New York, bringing its loss for the year to 9.5 percent. The Standard & Poor's 500 Index is down 0.4 percent this year.
Full-year profit, excluding some items, will increase 6 percent to 12 percent to a range of $5.05 to $5.30 a share, UPS said. That's below its long-term earnings growth target of 9 percent to 13 percent. The $200 million in cost overruns from the fourth quarter will continue to be a drag on the company this year, Kuehn said. Increased pension expenses of $190 million and currency headwinds -- from a weaker euro and other currencies-- of $50 million will also weigh on earnings, UPS said.
Currency Hedges
UPS hedges the Euro, the British pound and the Canadian dollar, which represent the vast majority of its exposure. UPS had a $40 million currency effect for the fourth quarter.
During the seasonal crunch between Thanksgiving and Christmas, UPS hired more drivers than it needed, took on some part-time workers too early and paid premiums for some contract carriers earlier than needed in the season, executives said on the call.
To help align costs this year, UPS will expand capacity at shipping hubs in key areas to reduce the need for temporary workers and training costs and accelerate deployment of its Orion technology that schedules deliveries more efficiently. UPS will add peak period surcharges, focusing on its SurePost and residential deliveries. SurePost deliveries are handled by the U.S. Postal Service in the last mile of shipment and usually are items destined for homes from online retailers.
Charges Vary
UPS declined to provide specifics on the peak surcharges, saying they will vary among customers. The extra fees may depend on a shipper's volume or products, or could be linked to specific timeframes, Kuehn said in an interview.
"We're disappointed by the lack of detail on how to better protect UPS from the headwinds of peakier peaks or a desire to capitalize on a more favorable pricing backdrop," Kelly Dougherty, a Macquarie Capital analyst, said in a note today.
Investors will be watching to see if UPS gets it right this time. UPS's focus last year on improving operations and protecting its consumer brand, on the heels of missteps in the 2013 holiday season, "came with a cost to shareholders," said Jack Atkins, a Stephens Inc. analyst in Little Rock, Arkansas.
Profit in the three months ended in December excluding some items was $1.25 a share, or unchanged from a year earlier, UPS said, reiterating preliminary results released on Jan. 23.
"Going forward, at what point will shareholders begin to reap the rewards of the investment?" Atkins said.
Before it's here, it's on the Bloomberg Terminal.
LEARN MORE