Surprise! Investors Face Need to Expect the Unexpected on Rates
Simon Kennedy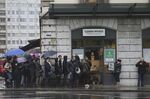 Another day, another central banking surprise.
Today it was the Reserve Bank of Australia's turn to wrong-foot investors. Just seven of 29 economists surveyed by Bloomberg News anticipated the 25 basis-point cut in its benchmark interest rate to a record low of 2.25 percent.
Already in the first 34 days of 2015, Australia, Canada, Russia, India, Peru, Pakistan, Turkey and Egypt all bucked forecasts by cutting rates, while the European Central Bank produced a bigger-than-expected asset-purchase program. Denmark lowered its deposit rate three times in 10 days and Singapore said it will seek a slower currency appreciation.
The Swiss National Bank produced the greatest shock: It dropped its cap on the franc against the euro just days after officials had signalled no plan to change.
Such shifts have Barclays Plc strategist Sreekala Kochugovindan declaring that central bank surprises have replaced oil price dynamics as the major driving force in markets this past month and may continue to be so.
By Barclays' reckoning, the shocks have forced bond yields to historic lows and supported equities, while the policy uncertainty has made havens such as the dollar and gold more attractive.
"Financial market volatility may not be capped," said Kochugovindan.
No Balm
The challenge for investors is that while central bankers have prided themselves on their ability to communicate their intentions clearly and to provide a balm for stressed markets, low inflation and a desire to weaken currencies are prompting swifter strikes.
Traders may also need to brace for more unconventional policies given central banks have already cut rates about 540 times since the 2008 financial crisis, according to Bank of America Corp.
Denmark is studying unorthodox actions to protect its currency peg, while the likes of Australia may need to accompany low rates with so-called macroprudential regulations to stop asset bubbles forming.
So where's the next surprise? Economists at Morgan Stanley now reckon the number of central banks with a bias toward easing has jumped to 16 from 10 at the end of November.
Perhaps investors need to look where the stakes are highest, namely the U.S. and China.
China is considering widening the band in which its yuan fluctuates or guiding the currency gradually lower, as options to manage capital-flow volatility, according to people familiar with the matter. As for the U.S. Federal Reserve, investors are questioning whether it will be able to raise rates in the middle of this year or if officials need to re-set expectations towards a later increase.
The upshot is that markets need to prepare for more surprises not certainty from policy makers. Forward guidance RIP.
Before it's here, it's on the Bloomberg Terminal.
LEARN MORE