Religion, Ethnicity Trump Ideas in Nigeria Presidential Vote
Elisha Bala-Gbogbo and Mustapha Muhammad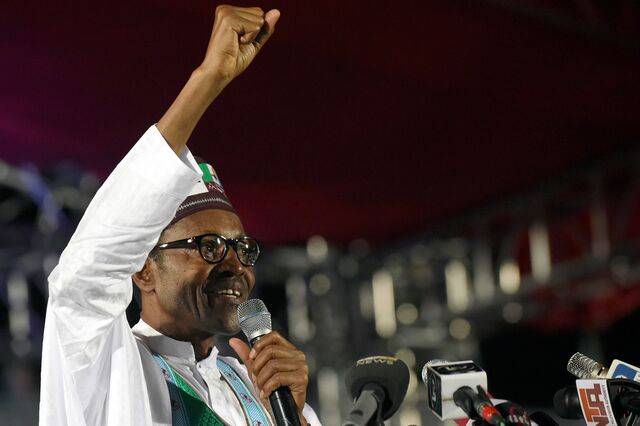 Abdulkadir Nayalin balanced his 72-year-old frame on a walking stick and explained that when he votes in Nigeria's presidential election this month two considerations will be paramount: the candidate's home region and religion.
"Only death or severe illness" will stop Nayalin from voting for fellow northern Muslim Muhammadu Buhari, 72, in the Feb. 14 contest against President Goodluck Jonathan, 57, a Christian from the southern oil region, he said in an interview in Kano, the north's biggest city. "I have never voted for a southerner or Christian and I will never do that."
Since independence from the U.K. in 1960, ethnicity and religion in Nigeria's elections have trumped ideas and policies in Africa's top oil producer. Politicians whip up these sentiments to their advantage in a country that has as many as 250 ethnic groups and is almost evenly split between a largely Christian south and a predominately Muslim north.
For 34-year-old Emeka Eze, a Christian trader of vehicle spare parts in Kano, since neither candidate shares his Igbo ethnicity, religion will play the "vital" part of his choice.
"I didn't vote during the 2007 elections when the two contenders were Muslims," he said. "I will vote for a Christian fellow in this year's elections."
Religious Identity
The policies of Jonathan's ruling People's Democratic Party and former military ruler Buhari's All Progressives Congress are strikingly similar. Both Jonathan and Buhari have pledged to end an Islamist insurgency that has killed thousands in the north since 2009. The APC has said it will maintain many of the PDP's economic policies if elected.
"Many voters believe, or have been made to believe, that a candidate who shares with them a common religious or ethnic identity will serve their interests better if elected," said Nnamdi Obasi, senior Nigeria analyst at Brussels-based International Crisis Group. "There is really no basis for this belief, but in the highly polarized atmosphere in which these elections are taking place, these sentiments will be very much at play."
Even among the Christian minority in the north, Jonathan's failure to stem the violent campaign by Islamist group Boko Haram isn't enough to deter its support for him. The militants killed more than 4,700 people last year, double the amount in 2013, according to Bath, U.K.-based risk consultancy Verisk Maplecroft estimates.
"I believe Jonathan must have learnt one or two things, and if given another chance he will correct those mistakes," said Esther Daramola, a 38-year-old Christian teacher in the northeastern city of Maiduguri, which the militants attacked twice in the past month. "A known devil is better than an unknown angel."
If Jonathan is re-elected and holds power to 2019, a northerner would have been in the top office for only three of the 20 years since the return to civilian rule. Northerners were in power as civilian and military rulers for all but three and a half of the preceding 40 years.
Northern Opposition
The more prosperous south is home to Nigeria's oil industry and the coastal commercial capital, Lagos, with the region outpacing the north's agriculturally focused economy.
While serving as vice president, Jonathan succeeded Umaru Yar'Adua, a northern Muslim, who died in office in 2010. He won a fresh mandate a year later amid opposition from northern politicians who said he didn't honor a party agreement to rotate the presidency every two terms between the north and south.
"These northern leaders consider this picture unfair and therefore unacceptable," said Obasi of ICG. "More than for any previous election, the risk of violent protests along regional lines is very high."
In 2011, about 800 people were killed and at least 75,000 forced to flee their homes after Jonathan was announced winner. Victory for him in February may spark clashes in the north. A loss would increase the risk of violence in the Niger River delta, his home region in the southeast.
The race is set to be the tightest ever, with both parties having 42 percent support among likely voters, according to an Afrobarometer poll released Jan. 27. About 68 million people are registered to vote, according to the electoral agency.
"Boko Haram has an enormous interest in disturbing the effective conduct of elections, as this would plunge the Nigerian state into a severe constitutional crisis," said Malte Liewerscheidt, senior Africa analyst at Verisk Maplecroft. "Inciting ethnic violence in the volatile middle belt is certainly on the agenda of the extremists."
Ethnic Groups
It takes a majority of the vote of two of Nigeria's three biggest ethnic groups and a sprinkling from the remaining minorities to win the presidential ballot. The Hausa-Fulani of the north, the Yoruba in the southwest and the Igbo of the southeast make up more than 60 percent of the population.
This calculation probably figured in the formation of the opposition All Progressives Congress, according to Liewerscheidt. The APC includes parties dominant in the north and the southwest, in a bid to unseat Jonathan's PDP, which has won all elections since the end of military rule in 1999.
Buhari, running in his fourth campaign for president, is characterized by supporters for being tough on corruption, and he's sought to broaden his support in regions outside the north where he has an almost cult-like following, said Jideofor Adibe, a senior lecturer of political science at the Nassarawa State University.
Jonathan's Support
Since Yar'Adua's death, the PDP has lost support in the north under Jonathan, an ethnic Ijaw, who's the first president from an ethnic minority.
For the residents of the oil-producing Niger delta region, where 56 percent of people live on less than $1 a day, according to the Nigerian Bureau of Statistics, support for Jonathan remains firm, said Anyakwee Nsirimovu, executive director of the Port Harcourt-based Institute of Human Rights and Humanitarian Law.
"The campaign for Jonathan in the delta is: 'he's our son, we will vote for him'," Nsirimovu said.
In the oil industry hub of Port Harcourt, Omubo Briggs, a 41-year-old mother of five who's helping to canvass support for Jonathan's re-election, said she backs the president because he is a fellow Ijaw.
"We know that our brothers and sisters in the north will vote for General Buhari," she said. "So there is a need for us here to vote for President Jonathan."
Before it's here, it's on the Bloomberg Terminal.
LEARN MORE